gatorade factor 3 x 32 + 16

Today was a great day on the bike. The winds & clouds of yesterday were involved with some sort of cold front, this morning in Richland the skies were clear, temperatures in the high forties at dawn. I was the first customer at the restaurant at 6am, ingested a sumptuous load of fuel, on the road before 7. The group of seven was not able to get motel reservations in Idaho, they were planning a short day today. I am going ahead.

The climbing started immediately with a 1200 foot ascent in about five miles. The grade was steep but I still had a couple of gears left by the time I got to the top. It was a bad ass climb but my legs are doing great & so's my butt.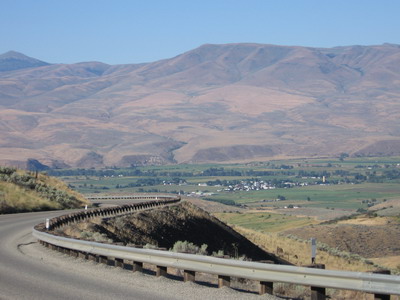 halfway up the AM climb, view west toward Richland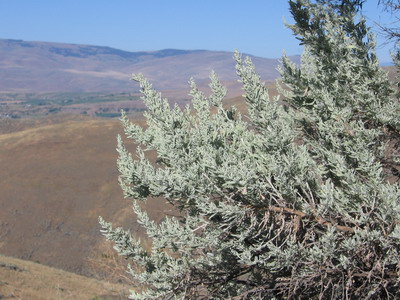 State shrub of eastern Oregon
Then came a wonderful downhill run to the town of Halfway, then down through canyon country to the Snake River at Oxbow. Elevation less than 2000 feet. Then it was climbing more or less upstream past Oxbow Dam and lake, then cross the river into Idaho at Brownlee Dam. The canyon rocks are flat-lying mafic volcanics, individual flows make benches in the steep, barren slopes that rise from the lakes.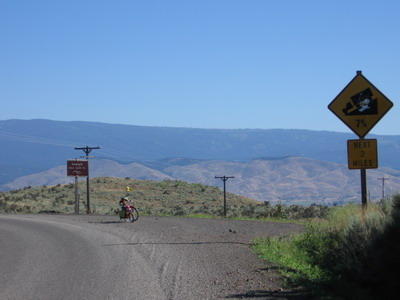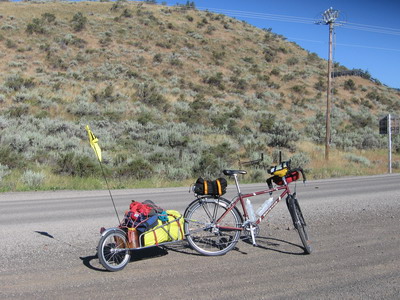 another retired sawdust-burner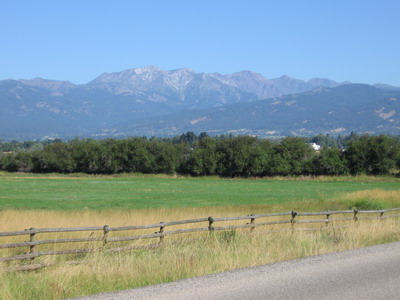 Halfway Oregon--beautiful place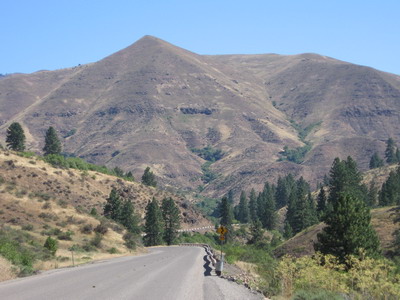 winding down to the Snake River & Hells Canyon
Comments on Oregon & the trek so far: Since I first visited Oregon at age eleven or some such, it has been one of my favorite places. Had I become gainfully employed when I moved to Eugene in the mid 1970's, I'd probably still be there, and y'all might be reading a different journal. The past week of cycling across the state has not changed any of that. The people I met were all outgoing & friendly, I had no bad incidents with operators of motor vehicles on the highway, the landscape is breathtaking, this is great cycling country among other things. Now back to your regularly scheduled programming.

Human players drive motorboats at high speeds trailing other human players on tubes & skis, others throw hooks and stuff into the water & stand or sit pensively.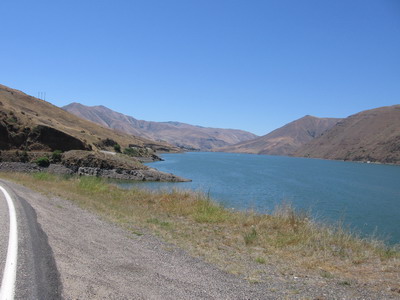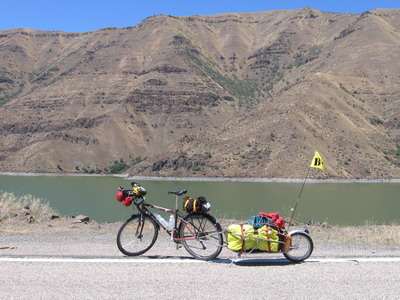 Along Oxbow Lake, in the midst of peanut butter and bagel, I ran into a west bound cyclist who turned out to be a guy I had met in Charlottesville at Blue Wheel on Elliewood Ave (cultural nexus of C'ville cycling), when he passed through town in May with the Adventure Cycling tour group. He had left the group in Missoula, and was completing the trip to the west coast solo. We talked a bit, then continued our separate ways.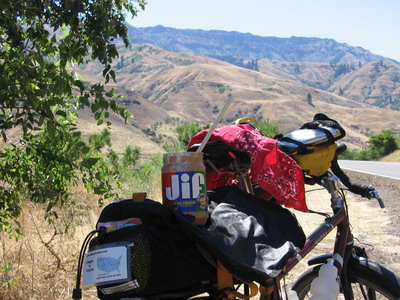 typical lunch scene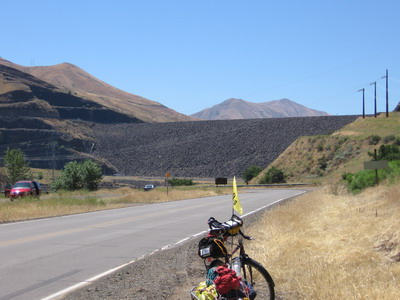 Brownlee Dam in Hells Canyon--gotta climb that...

At the base of the (2000 foot) climb out of the Snake River canyon I stopped at the Gateway Restaurant. When I walked in, what do I behold but a bunch of guys in jeans and cowboy hats watching Lance Armstrong et al in today's stage. In rural Idaho. It was quite the scene, they were all interested in what I was doing. I ate a ham sandwich and some potatoes. Gotta eat potatoes in Idaho, right?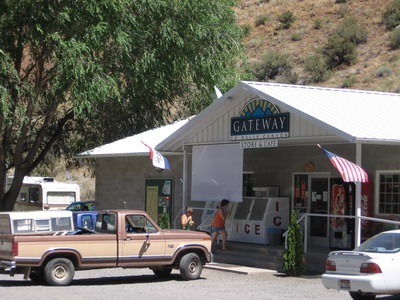 serious Lance fans inside

Bought the second large Gatorade of the day & headed up the road. Once more a westerly tail wind was in my favor (I don't know if I've mentioned this, but just about every afternoon since Eugene I have enjoyed a tail wind out of the west that has gotten cranked up after lunch. Don't know if it's just dumb luck but I'll take what I can get, thank you!).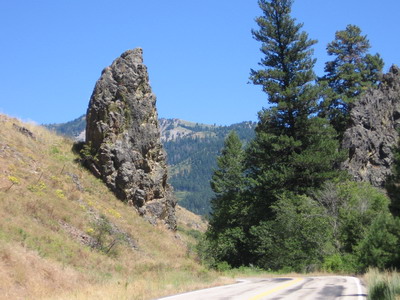 hoodoos watch me climb out of Hells Canyon

I crested the top & rolled 15 or so miles down into Cambridge. There were evergreen trees at the top, but most of the landscape is sage brush & rock.

In Cambridge I jawed with a geezer who had AC, cold beer and a TV waiting for him at home. He gave me the thumbs up, told me he'd be out there with me except he's 94 years old & gets tired now. I bought another large Gatorade & headed on to Council.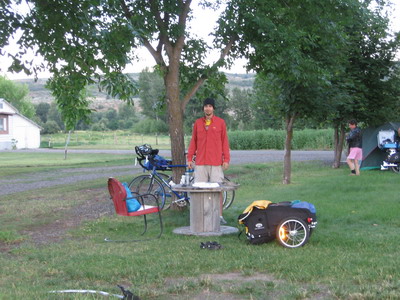 Tim of Tim & Christine of Tacoma, WA
After yet another tough climb, pulled into the RV site in Council that the guy I met along Oakbow Lake had told me about. There's a cyclist couple from Tacoma, Washington here. I'm beat. Cooking pasta & fish. Tomorrow's my birthday.

---
Photo of the day: