Day 7: Mt. Vernon to Sumpter
(Note change to decimal degrees in coordinates above)

gatorade factor: 64oz

How hot does it need to be for chap stick to undergo a phase change & become mush? Everyone around here says it never gets this hot, so they're all lying down under their porches like Molly. I've been out riding around on my bicycle along with a few other crazies. What else?

Today's route took me over three 5000+ foot passes, about the only way to get anywhere from the upper John Day river valley if you're headed into the morning sun. I rode with three locals out for a morning ride, in the pre sunrise cool, from my camp in Mt. Vernon to the city of John Day.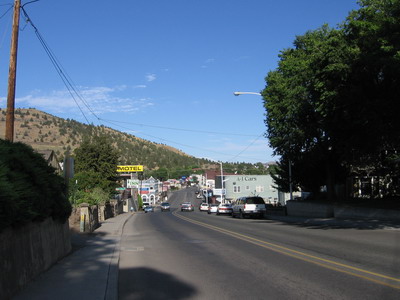 Breakfast was a squeeze with most of the town in the Squeeze Inn restaurant, then a little grocery shopping, then back up the road toward the river's headwaters.

In Prairie City I saw a working sawmill, actually a stud mill, taking in big logs on one end and turning out truckloads of 2x4 studs at the other. I've seen a lot more closed down mills on this trip than I have mills in operation. But all those logging trucks have to be taking their loads some place! Actually, there seem to be fewer logging trucks on the roads than I remember from when I lived out here in the 1970's.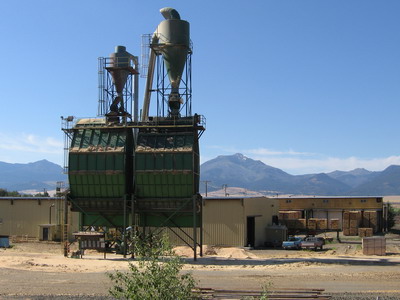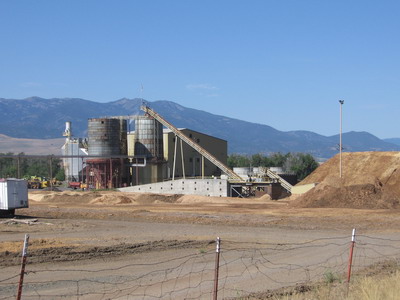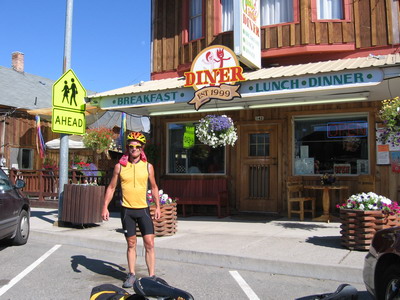 Also in Prairie City I met up with the sag crew for a group of 6 or 7 riders with whom I ate dinner a few days ago in Mitchell. The riders are older than I am, not carrying gear, doing shorter days. One of them is new to cycling & riding these roads! These folks have been getting together every year for several years, from various parts of the country, & running their own bicycle tour. This year they're touring along much the same route as I am, as far as Missoula. While we're all riding at different paces, we'll probably see more of each other during the next week or two. We rendezvoused on the other side of Dixie Pass & had lunch at the restaurant/general store in Austin Junction.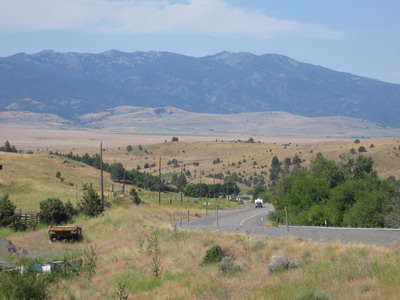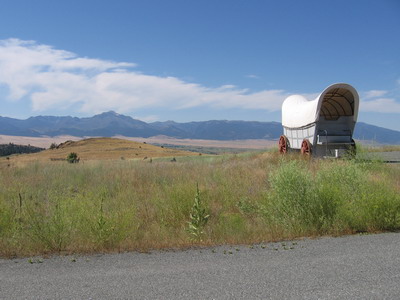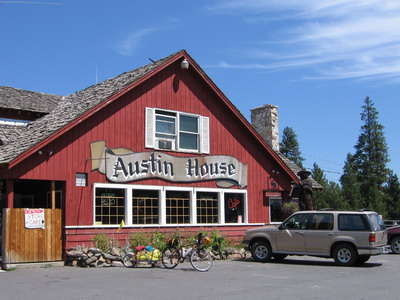 Did I say it was hot??? I did the evaporative cooling thing at an artesian spring after lunch. I'm actually doing fine riding in this weather. With my Lawrence of Arabia garb & a couple bottles of Gatorade strapped to BOB I just keep on truckin'. I think I'm better acclimated to the riding regimen after a week on the road. Today's ride was tough by any standard, but I don't feel wiped out by it.

The reason all these mountains are here is there's seems an uplift of crystalline igneous and metamorphic rocks that the younger volcanics are draped around bunch of granite amid the volcanic rocks. Some interesting road cuts.

At the bottom of the descent off of the third pass the road crosses the Powder River, amid huge piles of gravel & cobbles--hallmark of historic mining of placer gold in the river alluvium. "Land-disturbing activity" on a grand scale..
I took a 3 mile trek off the main highway to get to this little town of Sumpter, which is an old mining town along the Powder River. I was out of water after the last climb. I had planned on going back to a forest service campsite closer to Baker City, but I happened upon a nice RV park with showers just shy of town.

Having cleaned up and napped, I'm going to do the remaining mile into town and check it out. I think the people I had lunch with are staying the night here too.

---
Photo of the day: