Blacksburg was all abustle this morning as I cruised in to downtown on the inbound Huckleberry. Biker commuters, students on mountian bikes, joggers and skateboarders. It was chilly, winter's almost here. I went to Kinko's on College Ave and downloaded images from my nearly full camera. Then I couldn't pass by Gilley's Restaurant next door and not go in and have breakfast. After all the breakfasts I've had in cafes all across the country, Gilley's is still one of the best. Today's choice from the menue: french toast with walnuts & bannanas.

That done I pulled BOB through throngs of students across campus, dodged busses & maniacal student drivers around the drill field, and made my way over to a post office off Prices' Fork Rd that didn't exist back in the dark ages when this town was my home away from home. Packages retrieved and sent, I navigated residential neighborhood streets over to East Coasters bicycle shop, which has a big new building out Main Street beyond where Radford Brothers Grocery used to be, and Maxwell's still is.

Turns out the bike shop doesn't open until 10:30, I can see where this day is headed in terms of making miles. I needed to get some brake pads, the many long descents have taken their toll. Plus I've somehow managed to lose the mirror that clips onto my glasses during my stay at Llyn's. I take my brakes apart and hang out, in time the shop opens. This is a great shop with engaging & enthusiastic folks, I would like to have hung out some more but enough is enough, I need to get on with it. I had a great visit in Blacksburg, the place is alive and well. The growth that's occurred hasn't overwhelmed the ambience I remember from when I lived here.

New brakes served me well going down the steep grade to Luster's Gate in the Ellett Valley. I lived down here for several years in an old farm house, as I pedal by it looks vacant, but still standing. Just waiting for another poverty stricken grad student to drive by and see possibilities.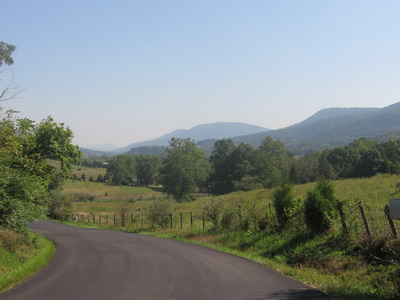 Views headed north through Catawba Valley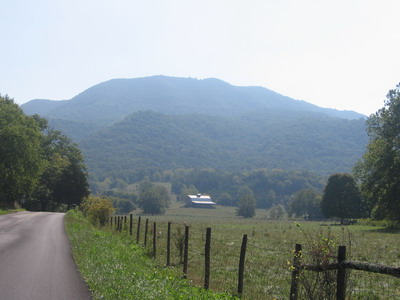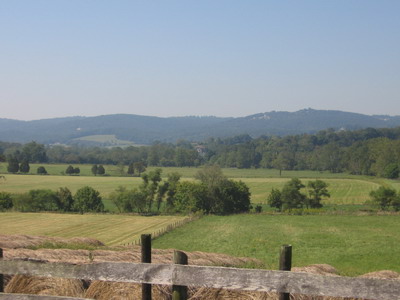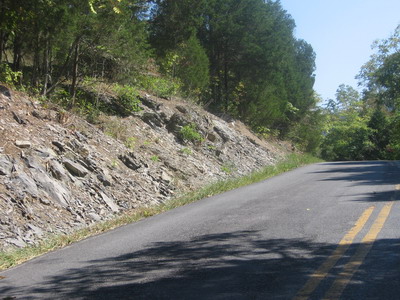 Ordovician limestone and shale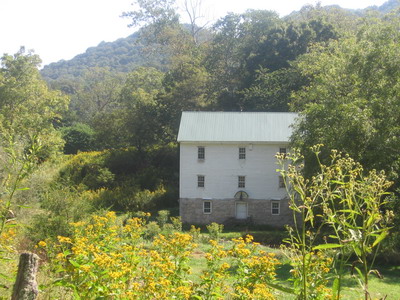 This has been a day of crossing drainage divides. The town of Blacksburg is (mostly) in the New River watershed, which ultimately drains into the Mississippi and the Gulf of Mexico. When I rode out Harding Avenue and crested the hill to go down to Luster's Gate (which I used to do every day), I crossed into the Roanoke River drainage, which drains into the Atlantic.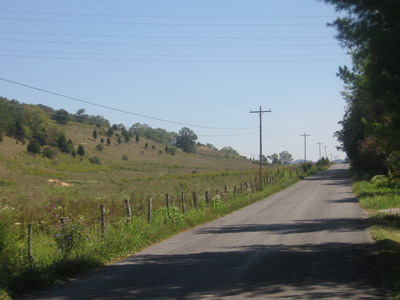 James River divide in Catawba Valley

I then rode up the North Fork of the Roanoke River through the Catawba Valley until, after about 10 miles I crossed a divide and entered the James River watershed.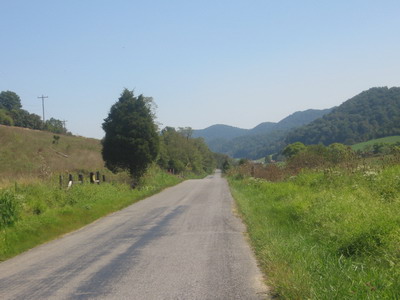 The James empties into the Chesapeake Bay. But perhaps more significant, the James is MY watershed. The various creeks that flow through my property in Burnley Station all end up in the James. I'm getting close, folks.

Shortly after crossing the James divide, there was another old friend literally working out in the field by the road, I could not simply ride by. Ed Robinson is a geophysicist, retired professor at Tech, at one point I taught his undergraduate labs. But we also have common interests in working the land. Ed has run a sheep and apple orchard operation in the Catawba Valley for the last 20 years or so. I parked the bike, climbed the fence and walked through the apple trees to greet Ed. We had a great little visit out there in the orchard, turns out his brother wants to ride across the country. Email exchanged, we'll be in touch.

With all this stuff happening, it's suddenly mid afternoon and I haven't even gotten around the back side of Tinker Mountain yet. I've been stopping and taking pictures, the Catawba Valley is really a beautiful place. Yes there are a lot of houses going up, but they have not overwhelmed the farmland and forested ridges.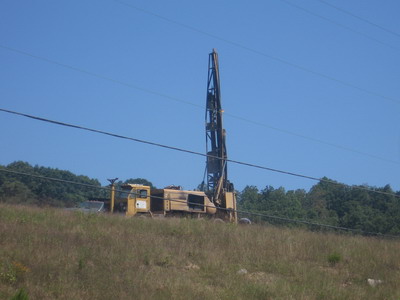 going for water in Catawba Valley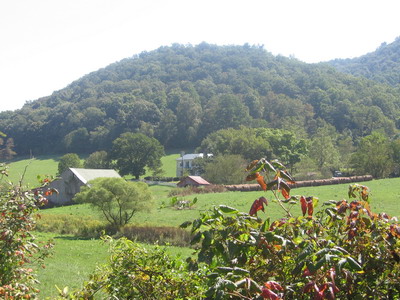 backside of Tinker Mountain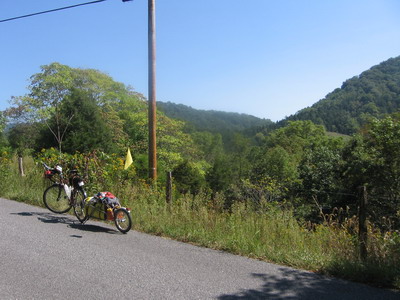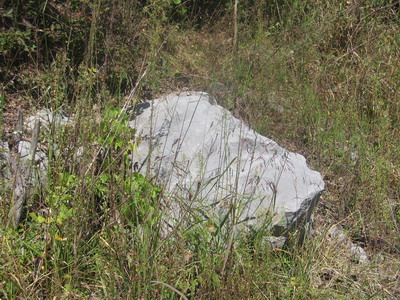 just another Ordovician gray rock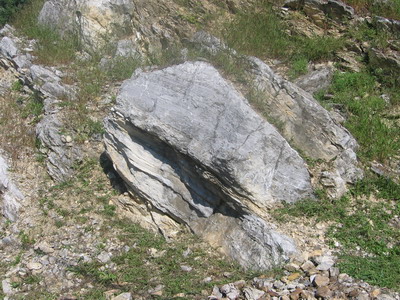 I do peanut butter and bagels, then head into Daleville past the cement plant. I'm immediately out of the rural valley and into a procession of big trucks headed for I81. Time to head for cover.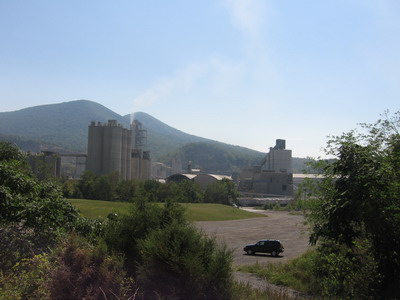 I'd scoped out a couple of possible campgrounds in this congested area. There's a KOA in Buchanan, and to the southwest, a private campground called Camp Bethel. The ACA route takes off east from Route 11 on a small road that eventually runs parallel to 11 in a valley at the foot of the Blue Ridge. Even though I81, Rt11 and all that goes with them are less than a mile away, this valley is quiet and rural. Camp Bethel is a private camp run by Church of the Brethren, but they are pleased to accomodate touring cyclists. Showers, creekside campsites, and you can't hear the trucks on I81. This is a very nice place to camp. There is about half a mile of unpaved road to get in here, but that shouldn't phase anybody doing an extensive tour.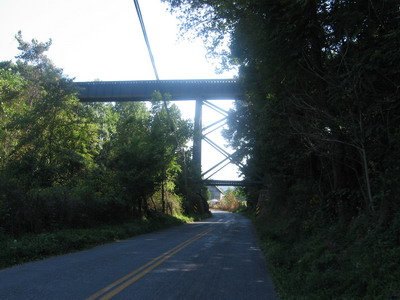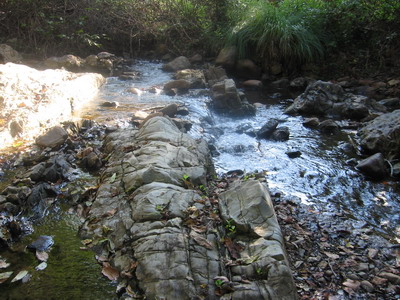 Cambrian quartzite in the creek at Camp Bethel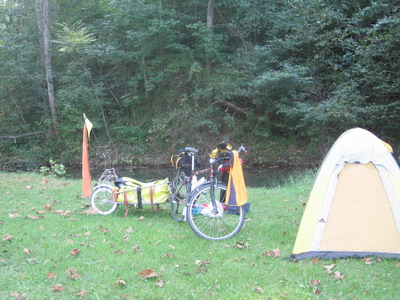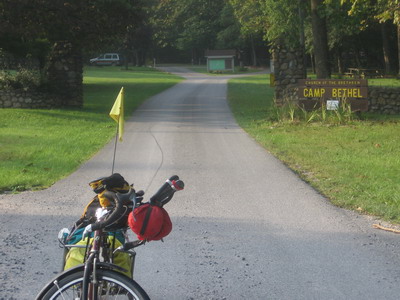 Tomorrow: I'm still looking at camping off the Blue Ridge Parkway north of Tye River Gap, which means I'll be headed north on the parkway Wednesday morning (after the sun cooks the fog away and warms things up a bit).