Starting the day off with a 2000 foot climb in seven miles with no hint of relief along the way is not the way I like to do things, since it takes about 30 miles for my legs to fully get with the program. But if you happen to spend the night in Mitchell, Oregon, and are headed east, there's no choice but to get back out on US26 and head up the hill. After breakfast, that is.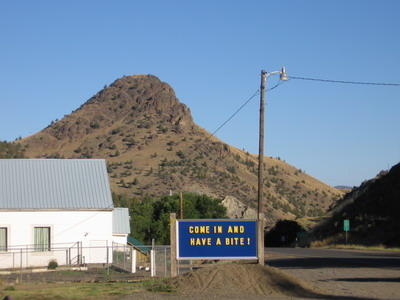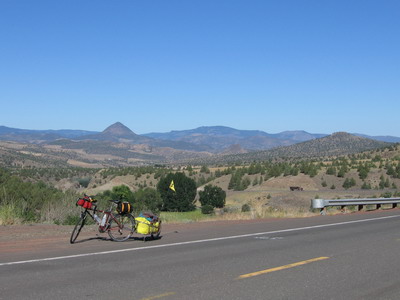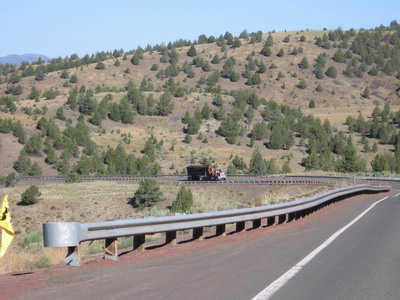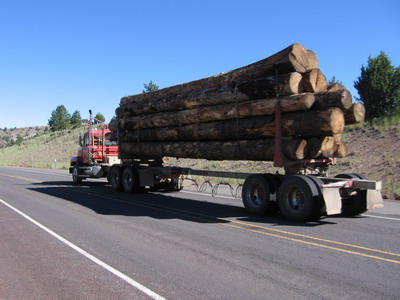 It soon became apparent that my advance team had already made tracks the night before. In other parts of the country we have roadside communiques having to do with Wall Drug and Burmashave.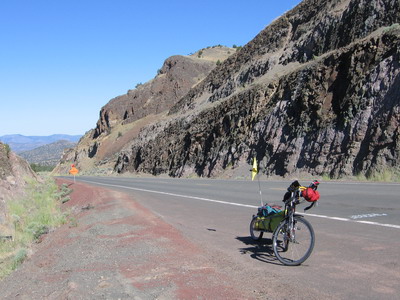 East of Mitchell we have pithy phrases spray-painted onto the road: "keep on pedaling, the hill ain't begun yet"; "the end isn't even close"; "you may think you're near the top, but you're not even half way". Or words to that effect. Actually most of the messages were much too gung-ho, namby pamby & sanitary, I'll talk to the advance crew.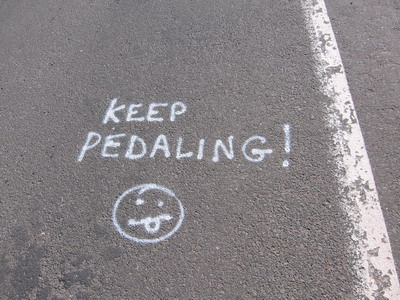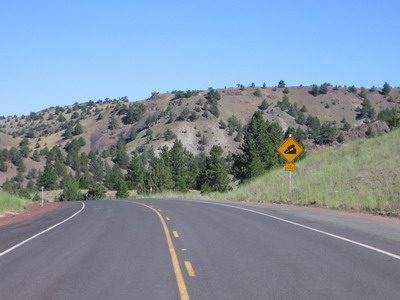 I crested the pass, then ensued about 16 miles of gradual descent to the John Day River through range country and canyons. The rocks look like flood basalts that have engulfed an older shale/sandstone sequence.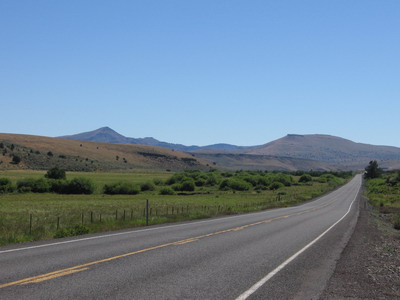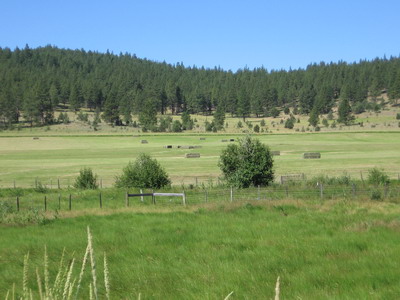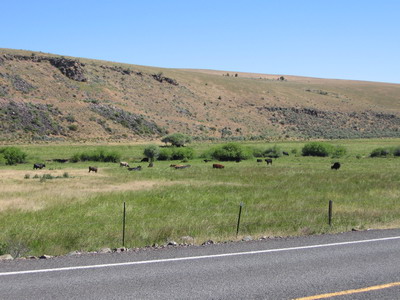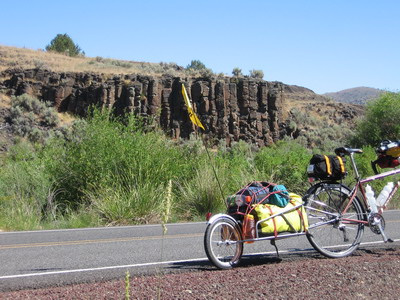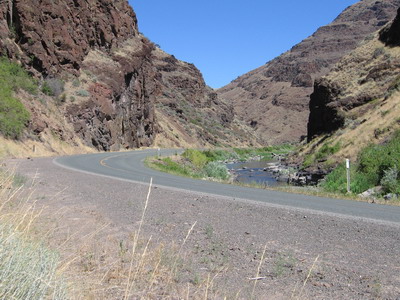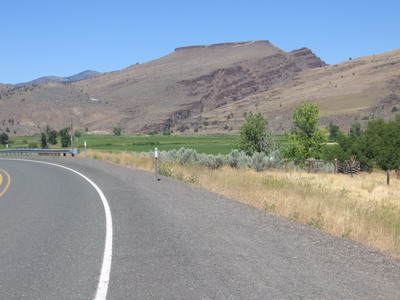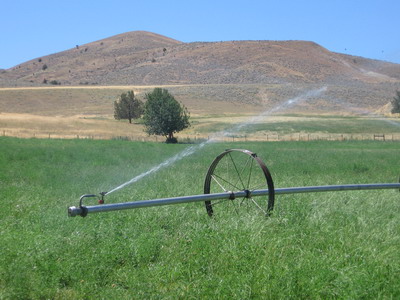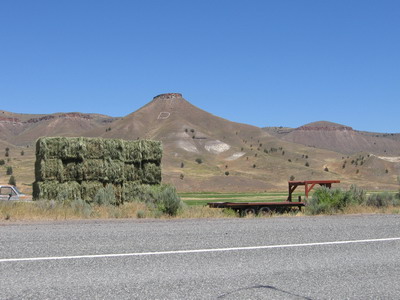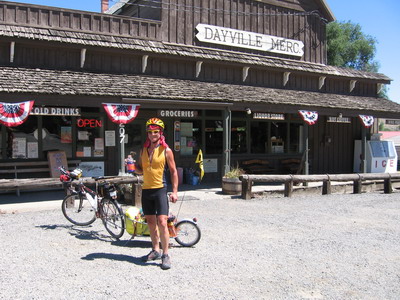 In Dayville I realized that in my zeal to exercise Kelvinator's theorem in the John Day River, I missed the turn for the John Day Fossil Beds. I was not hard pressed for excuses for not turning around & going back: it was 101F; I'm a hardrock geologist anyway; seen one fossil you seen 'em all, etc. I think if I'd been traveling by any means other than bicycle (or hoof) I would have gone & checked it out.

I ate peanut butter sandwiches, drank Gatorade & visited with the proprietor of the general store in Dayville. This guy is a veteran touring cyclist who's cycled Costa Rica to Panama, Chile, Argentina, and then some. We had a good chat.

In retribution for my slothfulness this morning, I had my second flat tire of the trip shortly after leaving Dayville, this time the front. Just as I was pulling in to view one of the "geological markers" that have begun popping up along this highway. Both of my tire tube failures have been due to leakage at the base of the valve stem, not a result of punctures. I think I got a couple of lousy tubes with the new tires I installed shortly before the trip.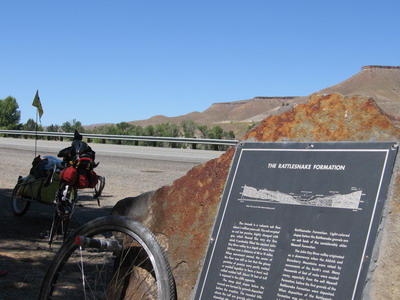 Tire repaired I rolled on the last 20 miles to Mount Vernon & the park. The last two days there's been a wonderful afternoon wind out of the west. Even though I was climbing gradually all the way from Dayville, I was able to run a pretty big gear & not work too hard, while the poor folks headed west were pedaling down hill. My riding garb has my head & shoulders shaded with a red bandanna, I'm not overly uncomfortable riding in the 100+ degree heat. The locals are still friendly, even though I probably look like I'm crazy, or someone from Mars. Or maybe TE Laurence on a bicycle?

The geezer outside the store at Mount Vernon was complaining about all the people moving in from California. I invited him to come to Charlottesville & see first-hand what unbridled development is all about. He'd been to Charlottesville, knew it well, said there's a new survey out where Florence, Oregon beats out Charlottesville as the number one place to retire in the US. I told him I'd get the people from USA Today out here to Mt. Vernon & see whether we could run a new survey. Then I'll set up shop helping people get water.

From here I'm headed to Baker City, but I think there's more than one day between here and there. I'm thinking about taking a rest day in Baker, there's supposed to be a great library there with internet access, plus other amenities. I'll catch up with email there.

---
Photo(s) of the day: