Have I mentioned that the weather has basicly been perfect since I pulled out of Motel6 in Carbondale? Cool in the mornings, warm to somewhat hot once things get going but not overly so. Couldn't ask for better riding weather.

I slept very well at the Madden's hostel. The sun didn't finally rise in Spruce Pine Hollow until almost 8, and I bet the temps were in the 40s. Fall is one of my four favorite seasons. I used the hostel's gas range to cook breakfast. Ed Madden gave me a fresh tomato which I sliced & ate. I had my long sleeve garb on as I rolled through sleepy, tiny Alice Lloyd College and east down Caney Fork Hollow. On my way to Virginia. Today I was going to make Virginia. Lots of climbing, but completely doable.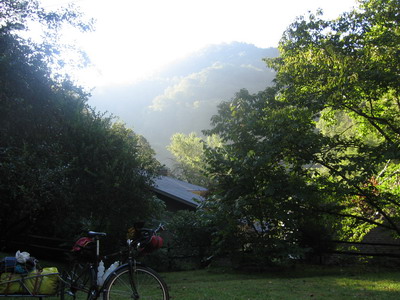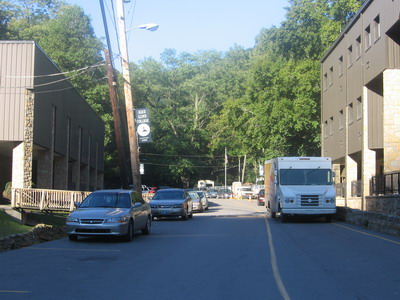 Alice Lloyd College in the early AM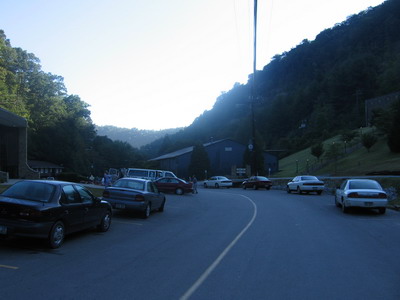 It was a spledid morning ride, starting with about a 10 mile gentle downhill cruise along the Chaney Fork. A twisty road along a steep sided valley; cool where the sun had not yet shone, warm where the curves bring me into the sun. As with most hollers in these parts, the crick is lined with houses and trailers, as it's the only flat land around. Many of the places are clean and well-kept; others are not. There's a dog with each homestead. But guess what? I've learned to deal with them. First I stop pedalling. I think the whirling motion of the feet on the pedals is most of what drives them nuts. Usually they lose interest. If they don't I growl at them. I haven't used the Halt yet. I've passed plenty of very mean-looking dogs against whom I wouldn't hesitate to invoke Halt, but so far they've all been chained or penned. Dogworld has comported itself quite well on this trip (which ain't over yet...)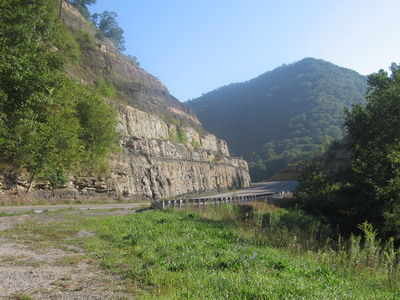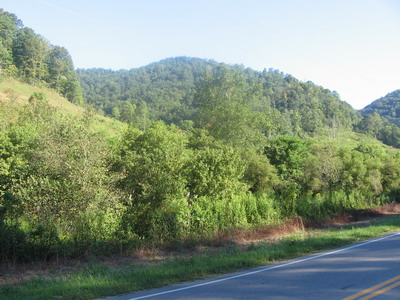 reclaimed strip-mine bench (left)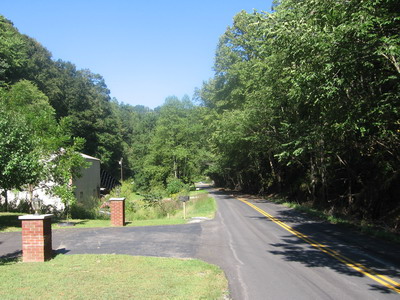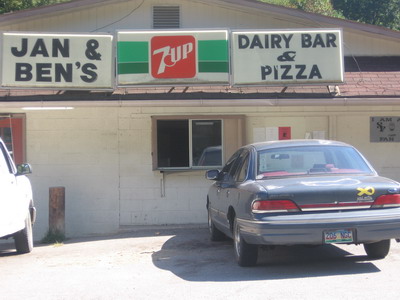 Then the climbing began. I've lost count of how many drainage divides I crossed today, but the stream valleys were at around 7 or 800 feet, and the high points were on the order of 1700 feet. I'd guess 4K feet of climbing over 60 some miles.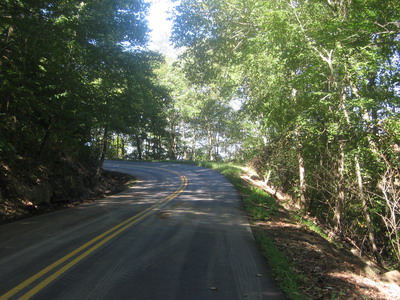 In Bevinsville at around 20 miles there was an honest-to-goodness restaurant, I stopped for eats. I chatted with the locals about deer and dogs, pickup trucks and big trucks, Cummins versus Caterpillar, "you from aroun here somewhere?"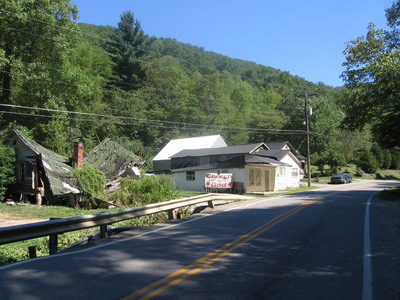 fridge hiding gas hookups?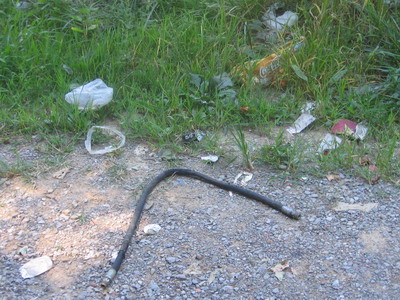 roadside refuse is thick in these parts...
The climb over to Lookout was particularly suculent (look out when the route includes a place called Lookout, you know you're going up.)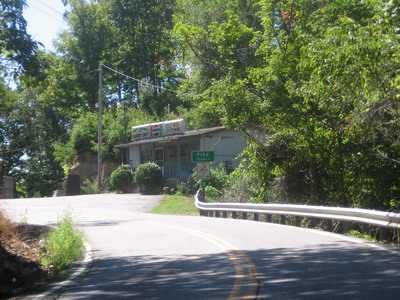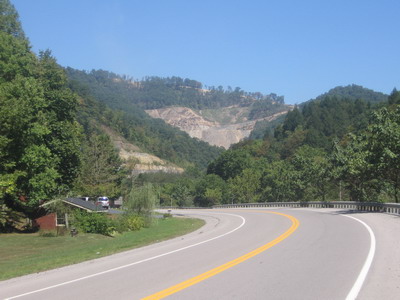 The Kentucky DOT or whatever they call themselves was out cleaning ditches today. Their strategy is to use a big front-end loader to scoop all the garbage, bottles, leaves, rock and refridgerators out of the ditch, drag it onto the road, then scoop it up and dump it into a truck. They shut a whole section of road down for periods of a half hour or so while they fool with all of this on a given section. The roads are narrow, there's not a lot of room for vehicles to pass. But there is room for bicycles, and I go on. Just as in Idaho I got around the truck wreck and rode for hours without traffic on my side, I did this gnarly climb while all the eastbound traffic waited on the other side of the flagman. The thing dragged me down into the basement of my transmission, either I'm a wimp or this is serious steepness. But there were no dogs or green-headed biting flies chewing on me as I crawled along at 4mph. Which is good.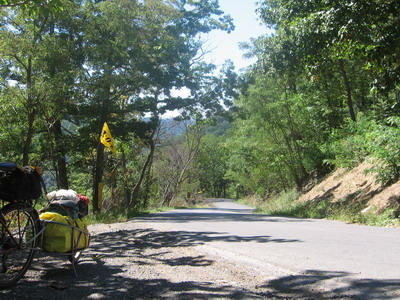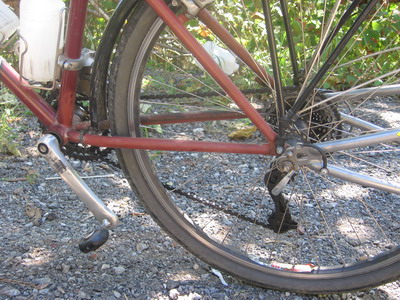 folks, this is a seriously low gear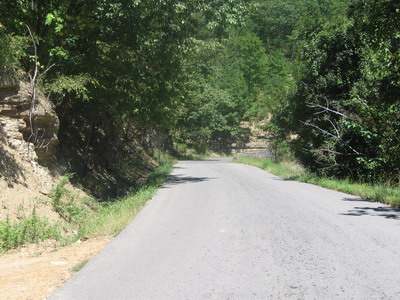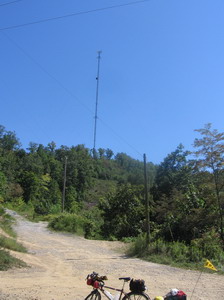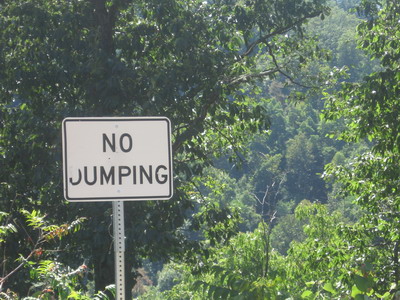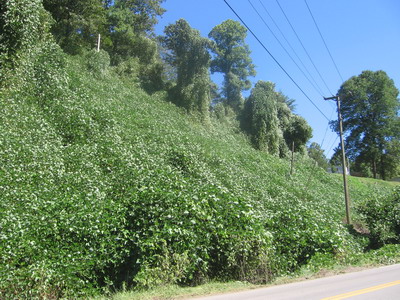 kudzoo on the down side

At Elkhorn City I ate a big meal at the cafe in anticipation of the multihundred (thousand?) foot climb up to Breaks Park. I've been here before, when I was doing geologic mapping for the Virginia Geological Survey.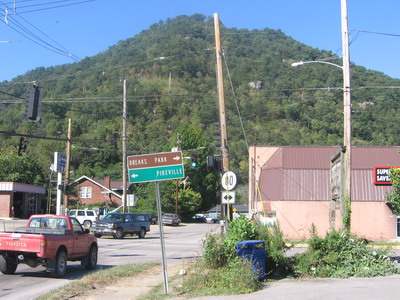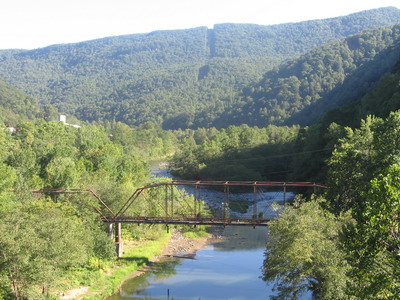 Russell Fork River at Elkhorn City, KY
At 5:08PM I crossed the line into Virginia, around 6 I arrived at the Breaks.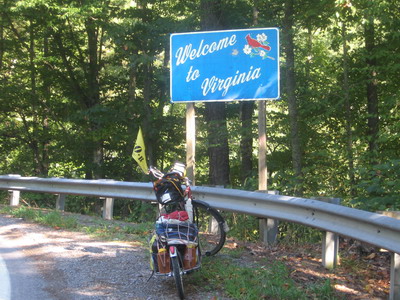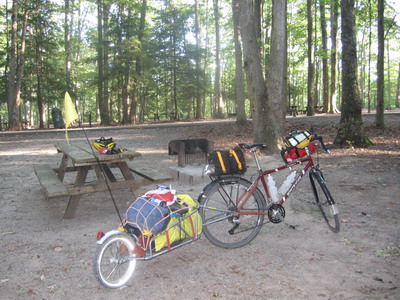 Geologically I'm camped on the northwest corner of the Pine Mountain block, which in this part of the country is the westernmost component of the Appalachian overthrust belt. I've crossed the structural front, there's going to be some great geology from here to when I park this thing, stay tuned.