Tonight I am staying at a home hostel operated by Ed and Charlotte Madden, in the hamlet of Pippa Passes, Kentucky. The Maddens hosted and fed thousands transAm cyclists during BikeCentennial in 1976, and have hosted thousands since in the quarters they built in the basement of their home. Good people, and a nice place to end up after a tough ride.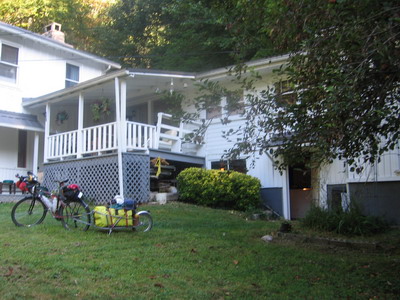 This morning at first light the fog was thick in Booneville. I had pitched my tent underneath the pavillion behind the Presbyterian church to avoid the bugs, and keep the dew off the tent. I lazed around in my sleeping bag for a while, listened to the news on an NPR station out of Eastern Kentucky University.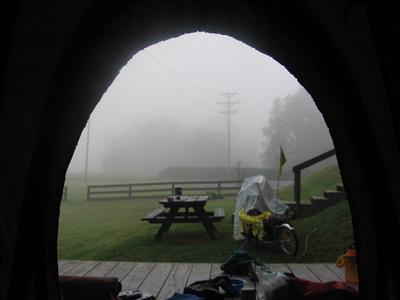 Yesterday was a tough ride, today I'll take it easy, let the sun burn off the fog, then take a liesurely cruise down gently rolling Kentucky byways (who am I kidding?) to this place called Pippa Passes.

I set forth around 9AM, I'd cooked & eaten breakfast so I didn't stop at the cafe in Boonville. The climbs started right off. From what I could read of the topography on the map, it looked like one good climb, then over and down the next drainage to Buckhorn, where supposedly there's a restaurant. The first climb is cool. In one sense because the sun hasn't reached this particular holler yet, but also I'm into it. Kudzoo encrusted pickup trucks, mobile homes on benches carved out of the bedrock valley sides, hairpin turns that would be at home on RT56 going up from Vesuvius in Virginia, and microwave towers that at first are distant, but my destiny is an appointment close and personal. There'd be a long downhill afterwards, then breakfast with smiling waitress and endless food.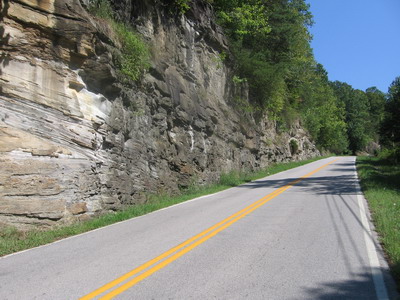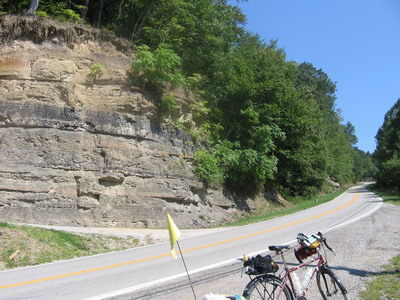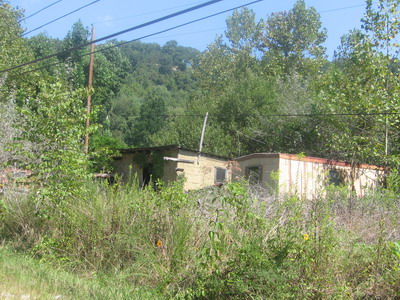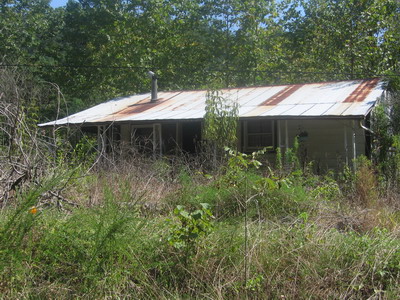 Trouble is, when that hill finally topped out at the towers with just one gear left, the screamer downhill sucked up a whole lot of the elevation, and threw it back at me. Twice, I think, before I rolled in to Buckhorn. I'm barely 20 miles into the day, it's noon, and I've burned about 1200 feet of climbing fuel.

I pulled into the grocery store in Buckhorn, bought Gatorade and put out some feelers on the restaurant situation. And signed the cyclist registry. These days, every store I go into is into what I'm doing, they've seen thousands of cyclists and realize that even though we dress kind of strange, we're just plain old people just like they are. The hangers-out told me all about where the coal truck traffic would be heavy, wished me well. They sent me to the "dairy bar" for fuel.

Dairy bars are another phenomenon in these parts, so far I've been opting for things called cafes or restaurants but this is the only game in Buckhorn. The place I've been sent to looks closed, no cars in the parking lot. Stomach growls. I ride up, park the bike, and walk over to check it out. There's a menue posted that includes things called "dinners", as I'm looking a window opens, and a very nice lady asks what I'd like to eat. I settle on a fish dinner, she says it'll be commin' right up, the window closes. I take a seat in the shade of the building and do what I always do on these occasions (if I havn't mentioned it before), look at the maps. After a while the window reopens, and my dinner is presented in a styrofoam container. I carried it to a distant picnic table in the shade, and it was OK. I was starved.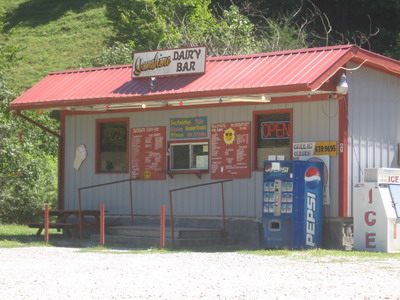 From Buckhorn over to Chavies there was another series of climbs and descents, I've lost track of how many times I climbed up to 12 or 1500 feet then dropped down to 8 or 900, repeat. But there was little traffic to this point, and climbs are what I do, right?
East of Chavies I became involved with increasing numbers of multiaxel coal trucks, and some high-traffic roads around Hazard. Roads that still had the up-and-down of the previous low-traffic roads. Hot, mid afternoon, 30 miles out from a known friendly stopping point. There's about a 15 mile stretch in there that's among the worst (paved) I've encountered on this trip. Nestled between some of the best.

I ride by (on a busy, steep rolling 4 lane highway) surface mining operations referred to in coalfields lexicon as "mountain-top removal".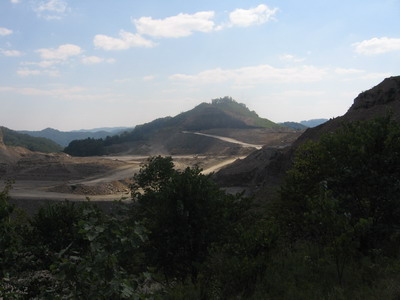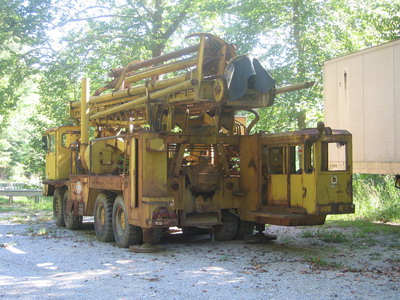 Massive earth and rock displacements that expose a coal seam by taking away whatever is on top of it. There have been court cases that force restoration of original topography, hugely costly. It looks like some of that is going on here too. Geologically I've managed to climb my way into the Pennsylvanian it would seem, but it's all still flat-lying.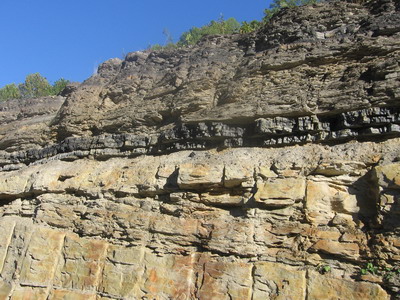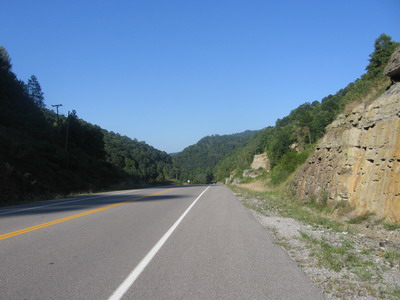 East of Dwart, ACA takes me off an awful 4-lane and onto a shaded 2-lane that winds GENTLY, thank you, to Hindman and on to tonight's stopping point.
And for those who may follow and have thirst, there's BEER just before Emmalena on highway 550.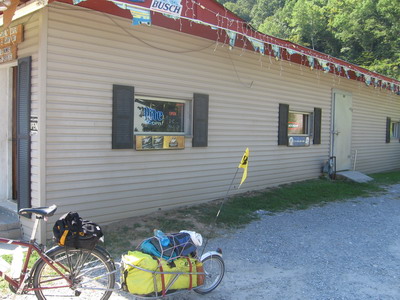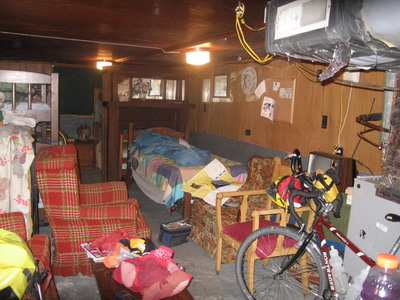 inside the Madden's hostel...comfy!
Tomorrow: VIRGINIA!