It's hot and dry on this side of the Cascades, increasingly so as I go east. Today's route was spectacularly beautiful, farming country bright green where irrigation waters flow (more Army corps and Bureau of Reclamation projects...), surrounded by mesa uplands of sage and juniper. Flat-lying layered volcanic rocks with sources to the west. Cottonwood trees along the river bottoms, open stands of Ponderosa Pine in the uplands.

I camped last night at the municipal park in Sisters with two other cyclists. One is a bicycle messenger from NYC who flew his bike to Montana & is riding west for a few weeks. The other, a Swiss lady living in Bend who is cycling north to Albany, Oregon. It was great fun sharing tales of the road etc with these folks.

We all left camp around 7AM, headed in three different directions. I shot some pictures of the snow covered Three Sisters mountains, now to the west, towering above freshly square baled alfalfa.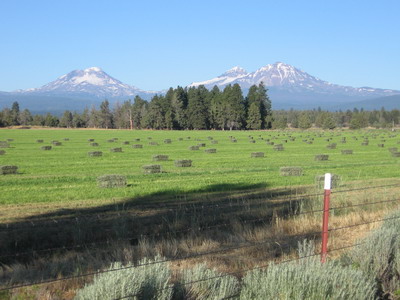 In Redmond I asked a lady at a stop light where a good place for breakfast was, without even pausing to think about it she spouted out directions to a mom & pop cafe, and it was great. Fast food has not completely carried the day in Redmond, Oregon!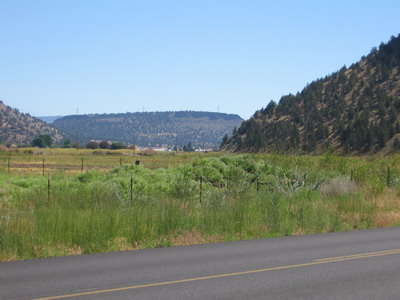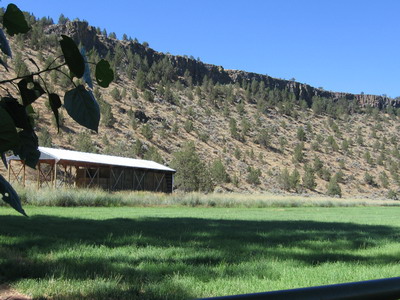 From Redmond the route does a slow ascent to the Ochoco Divide along the Crooked River (through Crook county). Farmers are growing hay on land that, without irrigation, would support only sagebrush. In Prineville, I visited a Supermarket to resupply. No Bear Naked Fruit & Nut. Kathy, did your send-off gift include resupply by helicopter drop? My supply is waning, and I don't know whether I'll be able to continue without the stuff.

By the time I left Prineville, the temperature was pushing 100F. No humidity, but 100 is still 100. My assault on Ochoco Pass involved a plunge into the Ochoco Reservoir at about ten miles.

That got me thinking about Kelvinator's theorem of evaporative cooling. After another 10 miles or so, with the grade steepening, I stopped & soaked my jersey and the bandanna I wear beneath my helmet in the roadside creek. Instant relief! I have a feeling I'll be doing this some more in days to come.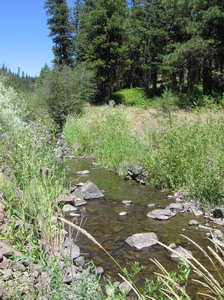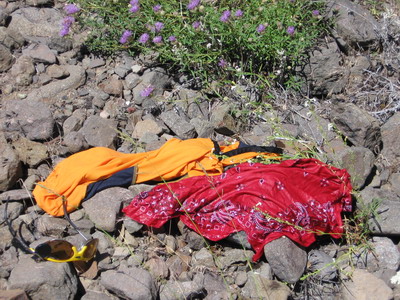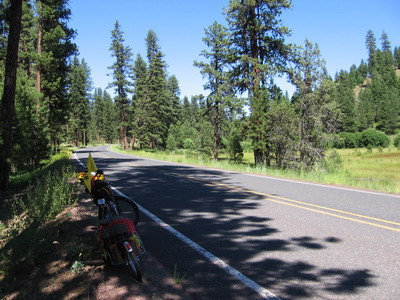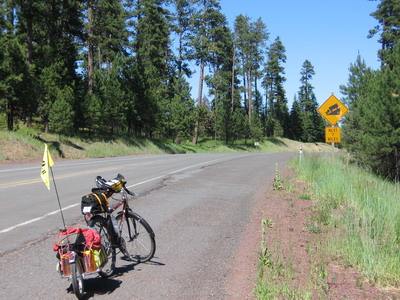 Things are noticably drier east of the Ochoco divide, and feel hotter, if that is possible.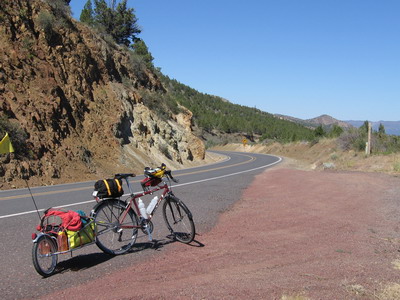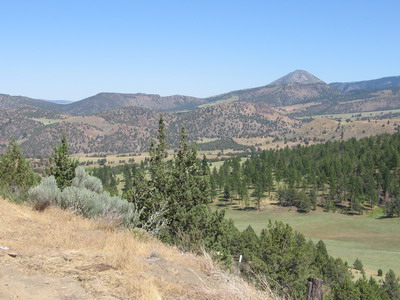 The roadcuts over here are shales & sandstones that look like the Morrison Formation I've dealt with elsewhere in the west. There are hoodoos and mesas in the distance that look volcanic. If I was on the motorcycle I might take off down some of the gravel side roads & explore, but it ain't in the cards chez BOB. The John Day fossil beds are nearby, not sure what they're in but I'll find out in the next day or so, I think my route takes me through the national monument.

I pulled into the city of Mitchell around 4PM,"city" might be something of an embellishment..... there were a bunch of college bikers from Eugene in the town park (which welcomes cyclist campers). The children of Mitchell descended upon us with cold lemonade.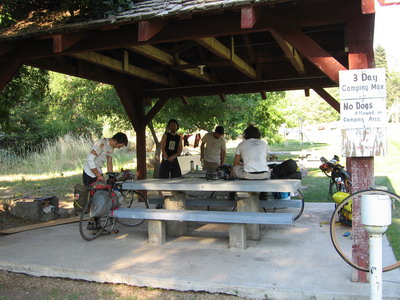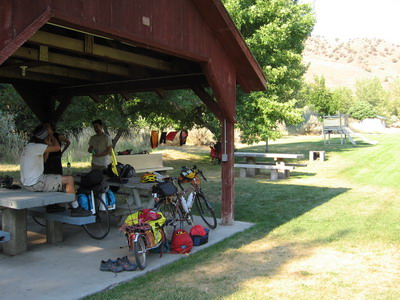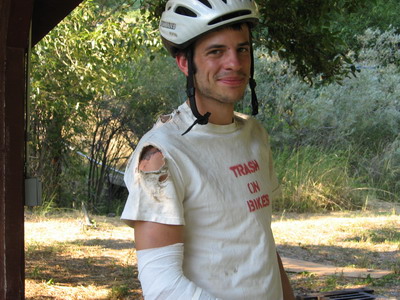 We chatted. It seems they had spent much of the day hanging out in metropolitan Mitchell, and, for reasons that are not entirely clear, had decided to get back on their bikes & ride some more. They were a colorful bunch, seems they had run into each other during a mishap early on in their trip, one was sporting picturesque scabs, bandages & torn clothing. At some point in the coming days I'll download all the images I've shot onto a CD & send them home for posting.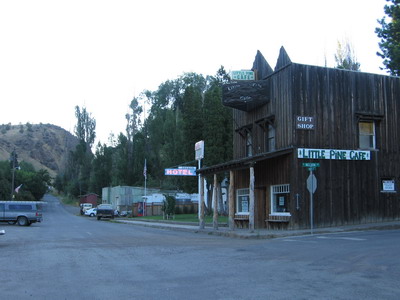 Ate dinner with another group of touring cyclists also eastbound, heading for Missoula along the same route I'll be following. They are not carrying luggage, so our paces will be different, but I'll probably see more of them as there are relatively few nodes of civilization in these parts.

It's time for a siesta beneath the cottonwoods of Mitchell.

---
Photo of the day: