It was already hot when I pulled out of Okawville this morning around 8, and humid. Yesterday was a humid scoarcher too. The amount of salt on my bike shorts & jersey at the end of the day is a good indicator of how much sweat I've perspired during the ride (and how much Gatorade I've consumed)...yesterday and today there's been a lot of white there before I perform the daily ritual rinse.

Southern Illinois is farming country without a whole lot of topographic relief. Haven't seen a rock since the bluffs at Alton. When the roads cross a stream, it's a real snoozer, might have to drop a gear or two, but none of that Missouri stuff of slamming you with a cliff to climb every time you cross a creek. The Kaskasia River meanders across this part of the state & has a flood plain / wetland area a couple of miles across. This interrupts most of the secondary roads I've been following, only a few main roads run across. Now that I'm here, I can say I sort of miss those Missouri roads in some demented way.

A guy in a white Chevy pickup on Main Street in Nashville directed me to the restaurant. It was unbelievably packed with after church Nashvillians enjoying Sunday breakfast. I took a table next to a group of about 20 people old and yound sitting at tables that had been pushed together. They graciously introduced themselves, they all came from the same church service. Good conversation ensued, this is a weekly event, and I'm a new face. I may have found America's heartland in Nashville, Illinois.

Heading south from Nashville with a belly full of heartland, my mind began to wander a bit. Illinois 127 is not a very inspiring road. It's straight as an arrow, undulates just a little bit, I need to ride it 40 something miles south to get to destination Murphysboro. The countryside it passes through is, well, uninspiring too. Corn.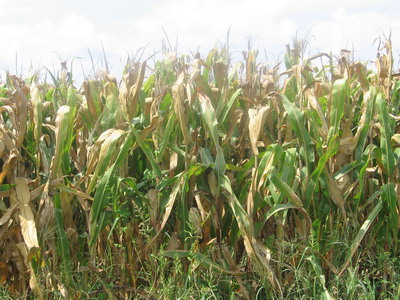 Burnt up by the drought corn but still corn. Ho hum houses with their front doors facing the road. Trees in occasional clumps are bursting with frog & insect sounds.

Illinois 127 has a nice paved shoulder which I am taking advantage of, and I notice that when I pass by a tree area with a lot of noise in it, the number of deceased frogs on the shoulder goes up. This gets me into the notion of documenting the roadkill I'm passing through. Good grief! I've now ridden thousands of miles, viewed untold thousands of carcasses, and I've made no attempt to record this significant aspect of my journey.

Well, it's not too late to start. I may be on an uninspiring road on an uninspiringly hot day, with a hurricane coming, but Illinois 127 has a very interesting shoulder. The sample set between Nashville and Murphysboro included many frogs, many butterflies, a few turtles, a few snakes, a grey songbird, and a skunk.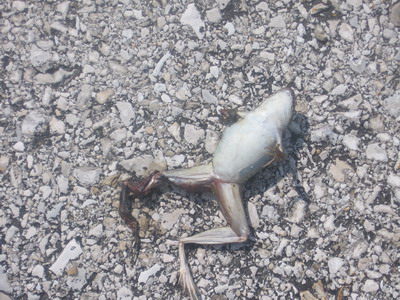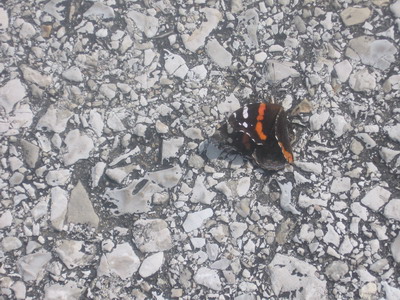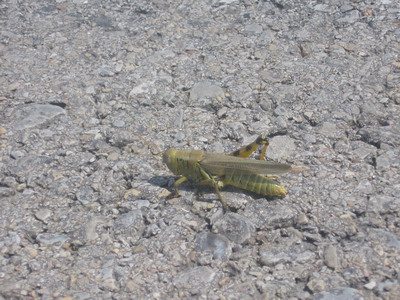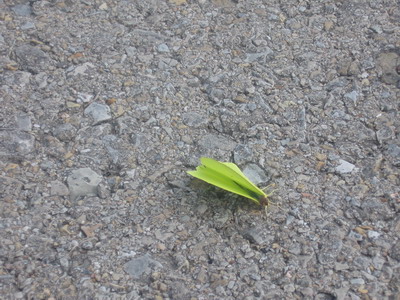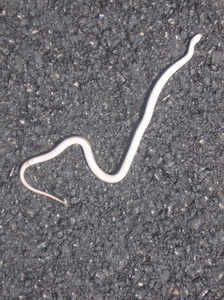 Then there are the hoppers. Hoppers are all fired up today, but many are no longer hoppin'. I don't know whether the southern Illinois corn hopper is related to the Montana wheat hopper, but they look the same, and they make the same plink when they hop into the spokes of my wheels.

There are many excuses for stopping and committing photodocumentation. At one point a local policeman pulls over and asks if I needed help. No thanks, I'm just taking a picture. Of a dead insect on the side of the road. In some people's mind that could qualify me as needing help.

I didn't stop for each and every carcass, only select representative examples that are PG rated. The bugs and birds that deal with roadkill after the official mouring period is over might be the subject of a future essay.

One time I pulled up to a snake lying across the shoulder but while I was fussing with the camera it awoke from the dead and slithered off into the bush. Miraculous things occur along Illinois 127 in the heat of a late August Sunday, with a hurricane on its way.

Outside Murphysboro I pull into Lightfoot Orchard's farm stand, and Mrs. Lightfoot gives me a complimentary peach. Yum!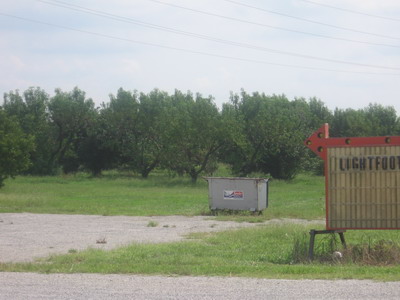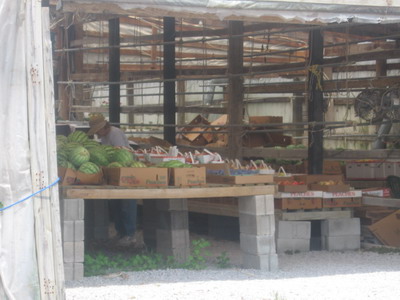 I preselected Lake Murphysboro State Park as a destination, a camping spot within range of Carbondale, where I need to go to the PO & attend to other business tomorrow. When I got here, I rode up and down some ridiculous grades to get to the "tent camping" site, only to find out there is no drinking water there. All was not lost, there was a couple from St. Louis and Carbondale in the site hanging out and looking for their car keys. We visited, they kindly shared watermelon and tomatoe, and I dialed up Ranger Rick on the cell phone to find out what the deal is. I've camped in plenty of primative settings on this trip. I plan for it by loading the tanks with water before I go in. For a developed State Park (with State Park fees) to have no water in the camping area is pretty shoddy IMHO. Ranger Rick told me I'd have to go back around to the other side of the lake and pay for an electric site if I wanted water. Then ride another mile if I want a shower. I rode to the high-dollar campground and went swimming in the lake. Heads up, cyclists looking to spend the night in an Illinois State Park, things might not be set up the way you'd like them to be. End of diatribe.