I crossed the border from South Dakota into Iowa this morning. Customs went smoothly, the Iowa Department of Homeland Security was neither overbearing nor intrusive. There was really very little fanfare, not even a welcome to Iowa sign for me to photograph on the east side of the bridge over the Sioux River. But things have been different from South Dakota all day, no question I'm in another state.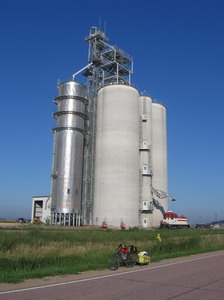 First off, the road construction is different. Iowans build roads out of concrete slab as do their neighbors to the west and north. But when the concrete needs to be repaired, they rip it out and put in more concrete. There are areas where asphalt or tar and gravel have been put on top of concrete, but the stuff underneath is in good enough shape that you end up with a decent road. Iowans do not seem to be into shoulders on roads, paved or otherwise. So I'm running my rig in the travel lane, not much choice. So far the drivers are considerate.

Then there's the urban landscape. Granted Sioux City is a larger place than Vermillion, Yankton, Pierre and Bismarck put together. But the whole experience of traversing this city from one end to the other by bicycle gave me feelings of being in some industrially declining northeastern city rather than a thriving midwestern burg.

Some of this may be due to the route that ACA takes you through the city on. Working-class neighborhoods that don't look very well off, seemingly endless warehouses, auto wrecking yards, bars, adult bookstores.....In the process of navigating this landscape, I encountered San Francisco-like grades on some of the side streets I ended up on, particularly when I finally got downtown. There, I applied my usual technique of asking people where there was a good place to get a meal. The most I could get was a shrug of the shoulders and "I think there's an Arby's a couple of blocks down that way".

I pressed on. My pedal seems to have healed itself for the moment, I think it appreciated the teflon treatment I gave it yesterday. So I blew off the notion of fooling with finding bike shops in this city (which I clearly have not bonded with at this stage). Little did I know what fun lay ahead.

The ACA map led me down to the foot of downtown, and south into an industrial neighborhood that again harkens visions of the worst side of something you might see from the New Jersey Turnpike. Abandoned warehouses, factories, boarded up bars, broken glass all over the road, pedestrian traffic that I would not be inclined to hail and ask for directions. It appears I have found the industrial wasteland of upper middle America. I understand why the route went this way, the only other ways out of town seem to be elevated limited access highways. I've done well following the ACA recommended routes. Almost invariably, when I've taken short cut off-route, there've been traffic or other issues not so pleasant. I applaud the ACA, they have done their research well.

Then the road ended.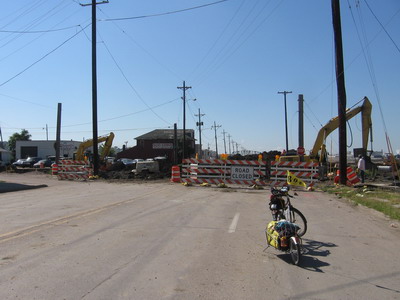 No detour signs, no warnings, just rounded a corner & there's the barricade. They've dug this huge trench across the whole neighborhood, installing new sewer lines or something, but there is no obvious way to get around it. I dial up the map on the GPS, and it becomes apparent why this particular route was chosen. There are waterways that interrupt the normal street grid, and they've constructed a few elevated roads to get traffic through the whole thing. If they tear a trench through the wasteland, it's not spoiling anyone's day. Except maybe the occasional cyclist, or guy pulling his canoe down the road with a dog in it.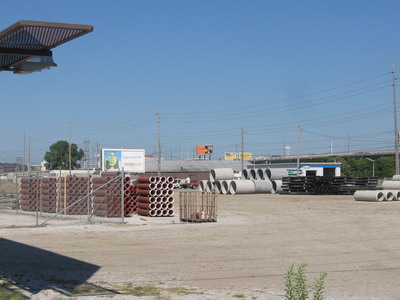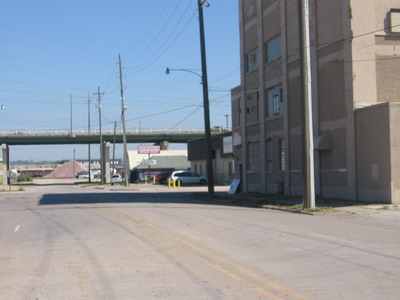 Eventually I figure out which Big Road I need to access in order to continue moving east and south. Turns out not to be that bad, drivers wait for me as I negotiate the narrow on ramp & off ramp. Dumped me off right where I needed to be to pick up the ACA route out of town.

Here's something cool. As I headed up Transit Avenue, emerging finally from Industrial Wasteland, there's a family restaurant, Timothy's, right there on the left with a bunch of cars and pickups in the lot. One of the best meals of the trip so far, and great conversations with the waitresses and several customers. This was less than a mile as the crow flies from the barricade on Dace Avenue.

After eating, I felt like finding a big oak tree and taking a nap. With all the hassle of Sioux City, I'm only 30 miles into the day, and the campground with showers that I'm aiming for is about another 40. This is bicycle touring, folks, gotta love it. I get back on the bike instead finding the oak. This is, after all, what I do these days a lot of the time.

The afternoon ride involved about a 20 mile run out to the town of Sloan on a road that paralleled I29. I think there was more traffic on the side road than there was on the interstate. The drivers were courteous but it is stressful keeping track of each car and truck in the mirror. Plus I'm running directly into about a 10mph wind from the south. I grind along in the drops at around 12mph. At least the sun is out!
At Sloan I get off onto smaller roads, and the traffic lessens considerably.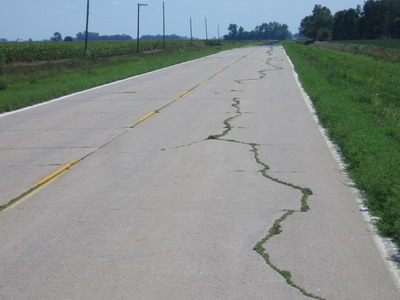 The route is above the immediate flood plain of the Missouri. There's lots of corn and soybeans. Corn makes a windbreak when it's tall enough, soybeans, forget it. I cross a couple of long abandoned meander loops of the river that have been preserved as wildlife refuges. These have petty much filled in & are wetlands more than open water.

I'm camped at a KOA place that's on another abandoned meander loop, only this one has water in it. Plus personal watercraft and severe bank erosion that threatens my tent site. I reckon it will hold up for one more night.