I really like the sun. It's not that I'm not capable of having a good time on a cloudy day, but a string of sunless days has a way of putting me into a bit of a funk it I let it. It's been cloudy and partly rainy for the past 3 days, today the sun came out. The temps have been in the mid 70's all day. The southerly winds were not friendly but that didn't spoil things.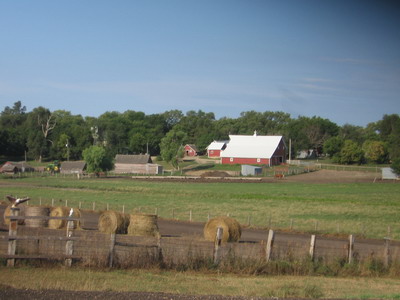 Along with changes in the weather, there are changes in the countryside that have been happening incrementally, but became cumulatively obvious today in the brilliant sunshine. There are trees here. Deciduous trees. Oaks, hickories, locusts, maples of some sort, and I'm not talking one spindly tree here and there eeking out a life in the scrub. There are actually patches of trees that could legitimately be called "woods". Cycling past chunks of woods I hear the sounds of tree frogs. I haven't heard those since I left Virginia.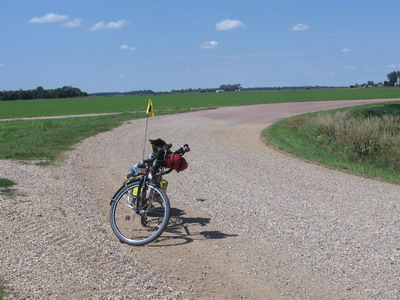 woops, pavement ends....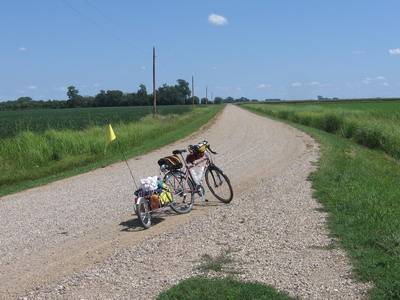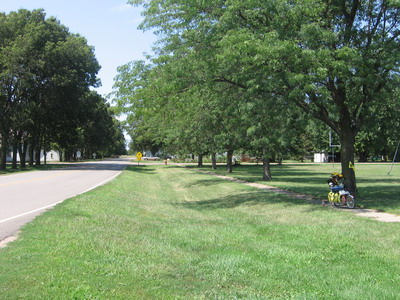 I spent much of the day riding across the flood plain of the Missouri River. The bluffs across the river were visible to the south, in Nebraska. The agriculture is vibrant, 10 foot tall corn, bright green freshly sprouting alfalfa. There are some feed lots, cattle and in one case sheep. Neither pretty nor fragrant.. The farms are neat, clean, well maintained, well equipped. This is very different from the grasslands and range country north and west of Pierre. I guess I haven't been exercising the green receptors in my brain, so I'm a bit overwhelmed. The browns have ruled the day for the past thousand miles or so.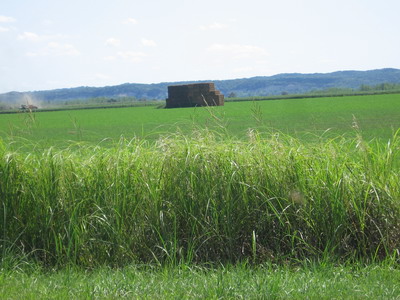 Missouri River flood plain, Nebraska in sight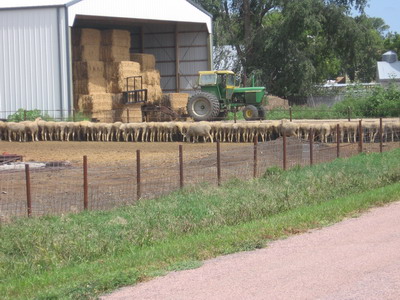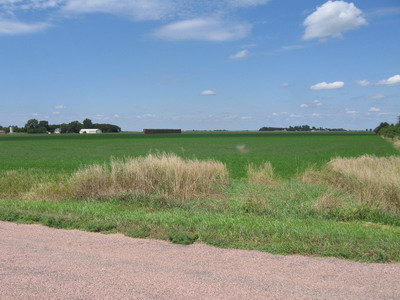 I rode into the town of Yankton, go downtown & sought out the local bike shop. As always seems the case, the people were outgoing and friendly with directions. The town (about 13K people) is a great looking place, immaculate, lots of street trees, and lots of every-day non lycra cyclists riding to and from work.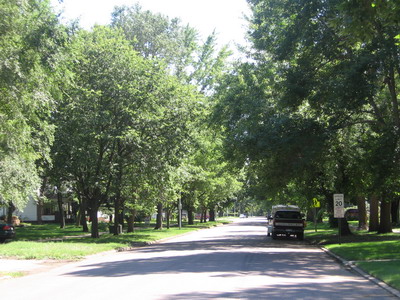 Several people I encounter talk about the (I can't get the name right but it's the) ride-across-Iowa circus that has just taken place. They had more than 10K participants this year. That's a lot of crazy people on bikes. Cycling's answer to motorcycling's Sturgis.

I sought out the bike shop because one of my Speedplay Frog pedals developed an audible clank on each stroke about 15 miles into today's ride. I determined that it's not in the cleat but somehow in the needle bearing innards. I'm not carrying a Speedplay grease gun setup, didn't find one in Yankton, but I did squirt a bit of the teflon lubricant I'm carrying into the port, and the thing quieted down this afternoon. I really like these pedals because my feet can float around laterally. If it continues to act up, I may have to order a new pair sent some place down the road, as it sounds like this is not a hot pedal in this part of the country. I'll be in Sioux City (Iowa!!!) tomorrow which is a big town with more than one bike shop, I'll see what's there.

I rode out of Yankton back into lush farmland, stopped in the shade of deciduous woods & had peanut butter on bagels with banana for lunch. Good stuff.

The roads have been much better today than anywhere I've been since I left Montana. Southeastern South Dakota is the most densely populated part of the state (which isn't saying much), maybe the highway money is apportioned accordingly. It was smooth sailing until I came around a bend and the pavement ended in a gravel road. This was shown on the ACA map, and I knew what I was getting into. Only a couple of miles and hey, it's not raining like it was the last time I hauled BOB down a gravel road!

Cruised through Vermillion without stopping. Another nice looking town. Not sure where the university was, I crossed Harvard, Yale and Amherst streets before turning south on University, which took me out of town. Maybe I should have turned north on University. In this part of the country, there are no grey areas when it comes to directions, it's either north, south, east or west.

I pressed on for the mid afternoon slog of another 15 miles to Elk Point, which I had planned as my stopping point for the night. Elk Point is very close to the triple junction of South Dakota, Iowa and Nebraska. This will be my last night in South Dakota on this trip.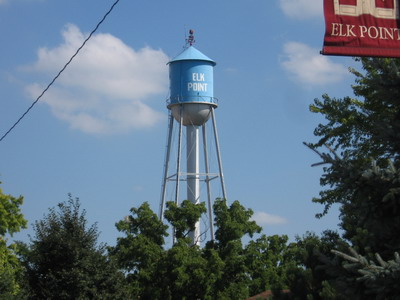 I went to the grocery store for supplies, then headed out to the city park where overnight camping is permitted.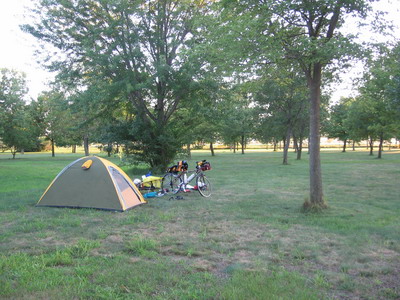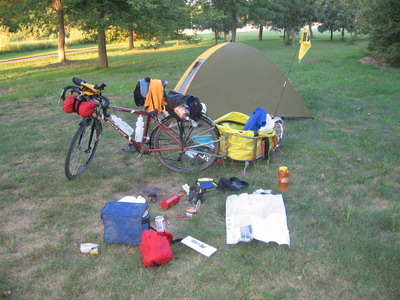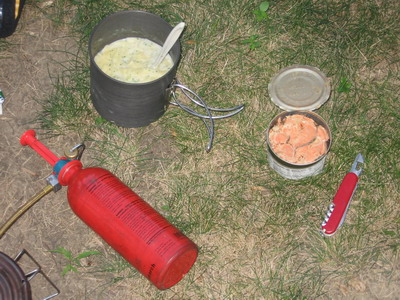 yum!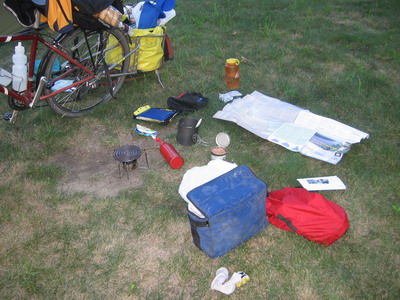 gotta check out the maps every night
The park is on the site of where Lewis & Clark camped on August 22, 1804. Today it's just off Interstate 29, which makes the ambience similar to my campsite near Ashland, Virginia on the first night of the shakedown cruise. But it was good enough for Lewis & Clark, and it's good enough for me. The tree frogs hold their own against the interstate noise, it's a nice park.