Every day starts afresh. It was with some trepidation that I got out of my cushy motel bed this morning & checked out the sky. There had been intense storms much of the night with lots of lightning and rain. Glad I wasn't in the tent. The sky at 7AM was mixed clouds and clear, wind out of the north. Weather radio (the motel TV did not get the weather channel!) said there would be more storms today, 70 percent chance of rain. I ate about 3 people's worth of the continental breakfast offering and packed up my stuff. Which I had cleaned up from yesterday's adventures by way of the motel bathtub. Didn't make too much of a mess.

Out on the road headed south for Pierre, it was clear sky ahead, and dark clouds in my mirror. With the wind largely behind me and the roads paved, it was smooth sailing. The road runs along the flat top of the mesa, very little topography to deal with.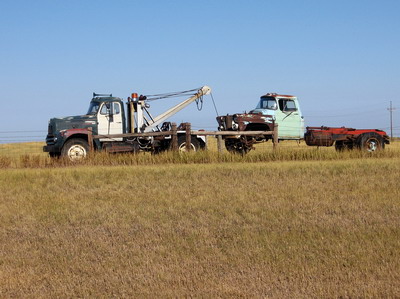 I stop to help a guy whose car has broken down. I'm able to determine that the electronic ignition system is not functioning, but that's about as far as I could take it. In the meantime another guy who seems to be a friend of the disabled guy drives up. After much expression of appreciation for my stopping, I get on the bike & ride on. I think the guy was sort of amazed that someone on a bicycle would stop and get his hands dirty trying to fix a car.

Along the roadside, fields of sunflowers have not yet dried off enough from last night's rain to get themselves oriented to face the sun.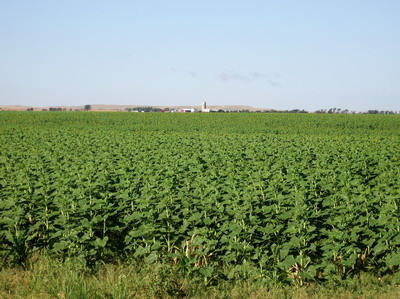 I stop for a snack at an abandoned farm, and a bunch of non-threatening dogs come out of the barn to greet me. Apparently they had been abandoned too, and they really wanted some of my peanut butter. That was not going to happen.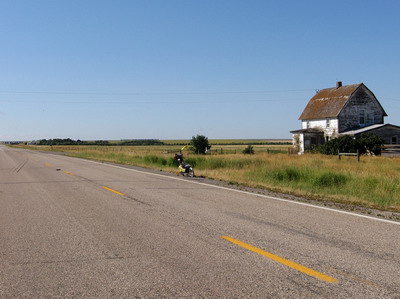 abandoned homestead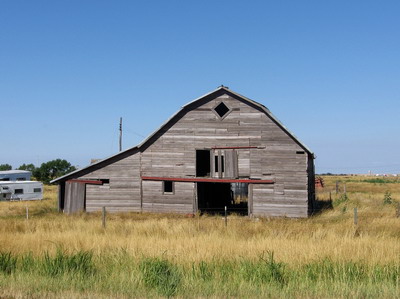 barn full of abandoned dogs

I stop a couple of times to photograph old trucks. After a while, I come within visual range of a bright yellow crop duster who is obviously having a lot of fun doing his thing to a field of sunflowers. The plane would make a pass just above the top of the plants for the mile or so length of the field, then do a tight circle back up to the other end of the field, swoop down and make the next pass. It was cool to watch, I didn't get any pictures.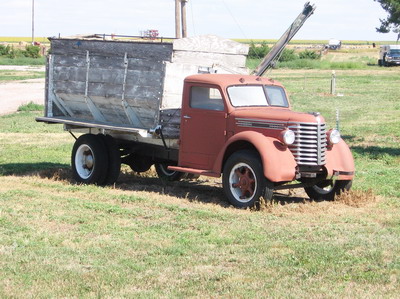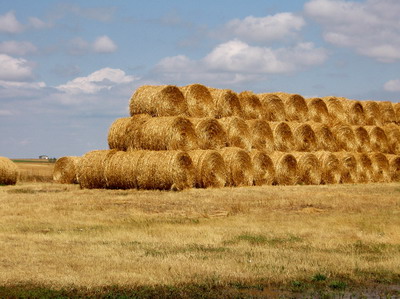 In time I came to the Oahe Dam, where the low pool level was visually apparent.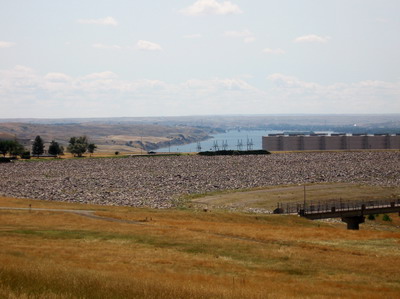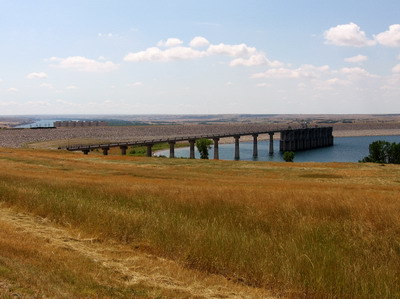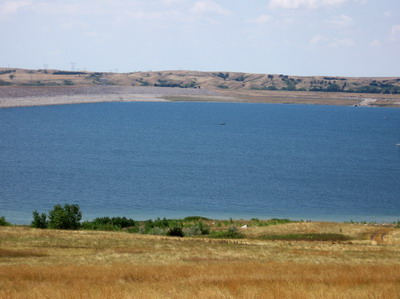 Then it was just 5 or 6 more miles of the 56 into Pierre, which I made by about 1PM. Not bad for a relatively lazy start.

It never did rain, I hope all those clouds in my mirror went and rained on Akaska. Those people could use some more rain. On reflection I would have booked a room in the rundown motel in Akaska yesterday and hung out if the people had been friendly. It certainly would have been logical. But they were cold.

Pierre is not Akaska. It's probably one of the most user-friendly state capitals you'll find anywhere. There are only about 14K people living in the city, which makes it about one third the size of Charlottesville, and there's no Albemarle County surrounding Pierre. I navigated the city to various destinations by hailing people at stop lights and asking directions, like "where's the post office?" or "where's a grocery store". After giving me directions, the people would wait up a couple of blocks along to make sure I made the turn. Really quite nice of them.

At the PO I picked up a package my business partner had sent me. With great fanfare at the Kozy Kitchen, I opened the thing up over lunch. Just what I need! A portable massage therapist! Thank you Michael, I knew I could count on you to deliver in a time of need! (Michael has demonstrated that it is possible to send me neat things that don't weigh very much...you too can participate in this adventure. I am receptive to the notion of picking up other mysterious packages in obscure places. Nothing fancy, Bear Naked trail mix or whatever it is that CBC Kathy sent me off with would be nice. If you would like to set up such a thing, please send me an email at nickonthebike at gmail dot com. We can pick a town where I'll be in a week or so, then it's just general delivery, hiker/biker Nick Evans, whatever town USA.)

By this time it was pushing 3PM. I had in mind spending the night at a lakefront campsite about 25 miles east of town on SD34. I'd overnighted there once before on a cross country trip on the R80G/S. I found a place people steered me to that could download the images on my camera to a CD, but the lady who does that stuff was at the dentist & wouldn't be back for an hour. Soooo, Jonathan I'll do that down the road at the first opportunity. I still have plenty of room on the camera, but it'd be nice to get a few images up on the web.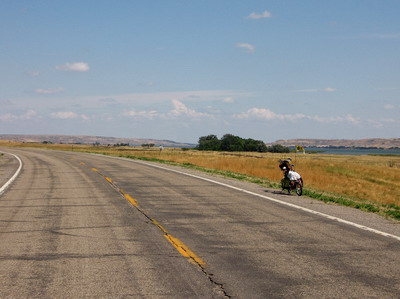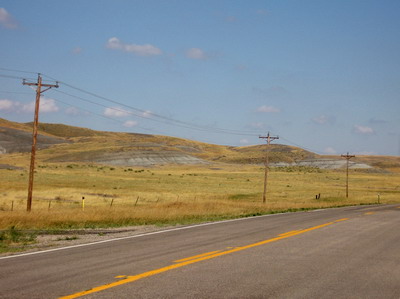 no hard rock here, it's all soft silt and shale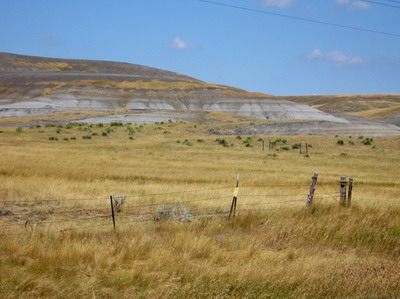 the lakes are silting up like crazy
I rode the 20 plus miles on SD34 out to De Grey Recreation Area with crosswinds largely blocked by the bluffs above the river. I'm really getting into wind management at this stage (of necessity), maybe I'll put together a piece for one of the cycling mags when I get home. My handlebar arrangement is just right for me, with both aero bars& drops that enable me to get into a good crouch. I'd be burning through a lot more energy if I had to deal with a headwind just sitting up grabbing flat MTB bars or other exclusively upright arrangements. The crouch position also gets me using different muscles (glutes), alters the butt factor, hand factor etc. I spend time there periodically even when I'm not fighting the wind.

The campsite on the lake is as I remember it.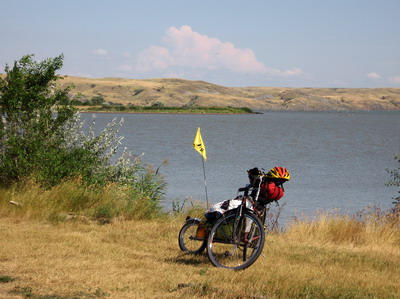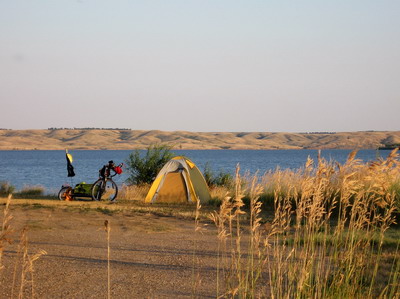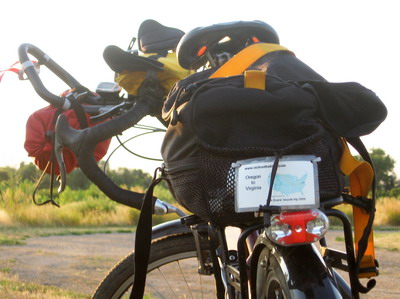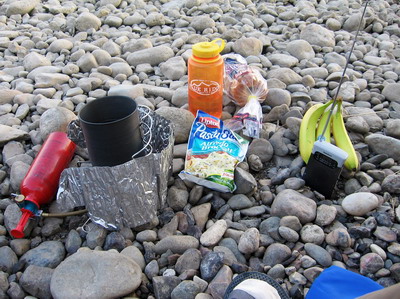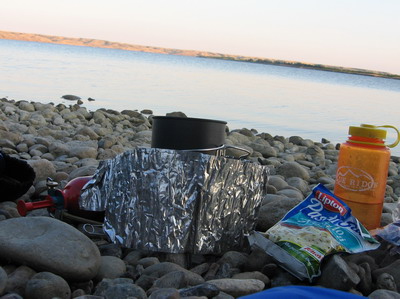 Complete with upstream diesel pumping irrigation water up to nearby farms. No drinking water, but I rode in here with full tanks. The lake is only 3 feet deep a quarter mile out. Maybe that's why there are no motorboats about. Gotta wonder about these lakes on the Missouri.....the bedrock here is hardly rock, it's extremely fine grained shale and silt. Easily erodable, these things would silt up in no time if it rained much like it did yesterday. This one has a good start, I almost lost my sandals in bottomless silt goo as I waded out to water deep enough to have a good dunk in.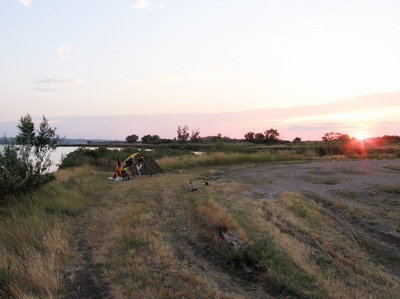 Tomorrow: more southing and easting. In the past couple of days I've managed to drive the numbers south of 45N and east of 100W. There's a lot of work that goes into driving those numbers. It's a big globe I'm pedaling across. I could probably make better time with the numbers on smaller spheres such as the moon or Mars, but these are the cards I'm dealt. Or dealt myself.