A new day, I arose as the sun appeared on the other side of Lake Audubon. The wind is, as predicted, barrelling in out of the north, I'm ready to rock & roll! I stoked up on oatmeal & tea, loaded up and headed south. There's about thirty miles of four-lane shoulder riding to get me to Washburn & a sit-down breakfast. The traffic is very light at this time of day (could be light all of the time for all I know), I'm running in high gear sitting upright to catch the breeze, checking out the scenery & grinning, this is about as good as it gets.

I go by a coal mining operation that's linked to a power plant. There's a huge drag line out there churning up the earth, but I'm cruisin' & forget to stop to take a picture until I'm already at the power plant.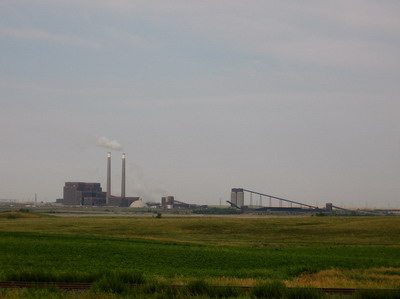 Breakfast in Washburn at the Lewis & Clark Cafe. I become engaged in conversation with locals about my trip. We talk about Lewis & Clark, how for them, running upstream on the Missouri might be more of a bitch than trying to pull a rolling pig into a 20 mile headwind. I'm not sure. I tell them I'm headed home on the bicycle to Albemarle County Virginia, which was home to that whole Lewis & Clark bunch plus TJ who started the whole thing. They as most people think that's nuts. The part about me and the bicycle, not L & C plus TJ. My food arrives, and their conversation turns to Iraq. I bow out.

North Dakota has designated a series of roads that more or less follow L & C and the Missouri River "1804" or "1806", depending on which side of the river you're on (1804 and 1806 are the years in which L&C passed through ND). Today I picked up 1804 south of Washburn, and will pretty much see it through to the South Dakota border.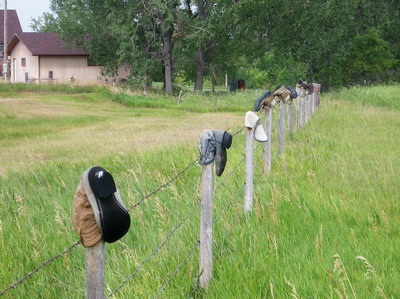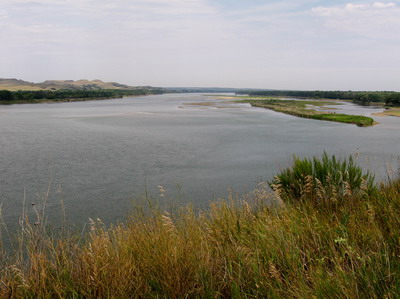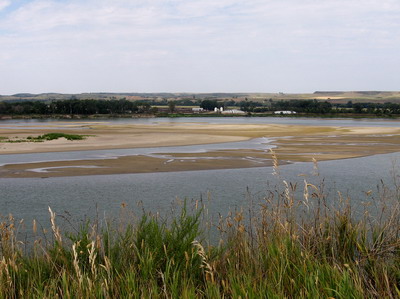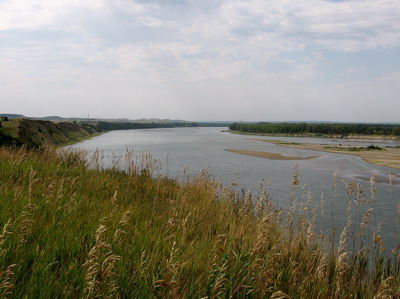 This is a great road, very little traffic, rolls along bluffs above the river for a while, then down onto the floodplain where one exists on the east side of the river. Corn, potatoes and hay. I run into a westbound rider, we stop and visit. He's ridden up from St Louis headed for Oregon, we talked about routes & the weather....he was having bad wind day, but he had a great day yesterday. What goes around comes around, or at least in North Dakota, the wind goes around and comes around.

On the outskirts of Bismarck I bail to a paved bike trail network that runs through a series of parks along the river. Very nice, kudos to you, Bismarck! There were cyclists, roller bladers, and.....I round a corner in the woods, and here comes a Dean Kamen (or someone who looks like him) on (what else?) a Segway Human Transporter.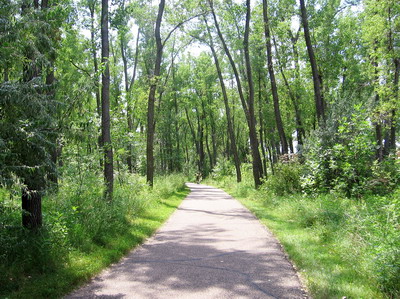 The guy was gone before I could flag him down & chat. (If this is all a mystery to you, check out USFIRST.org. And / or carobotics.org, which is the local robotics team that Jonathan & I are involved with.)

Before I knew it, I had somehow navigated my way around or through Bismarck, and had emerged on a rural road headed south. I knew I would probably be camping in the boonies, and there are pretty much no towns for miles, so I had to turn back into town & find a grocery store. The sky was increasingly overcast, thunderstorms trying to get themselves organized....

Resupplied, I headed south on 1804 amid winds that are still strong & from the north. The road jigs and jags east and south. The eastward tacks sap my energy, I call it a day at a primitive Army Corps campground about 25 miles out of Bismarck. No lakefront sites here, I'm on a bluff above the thing.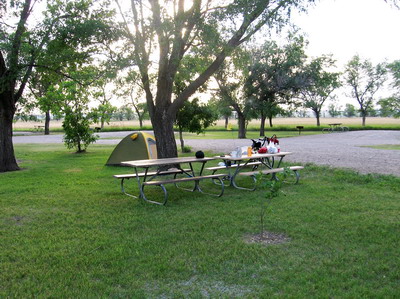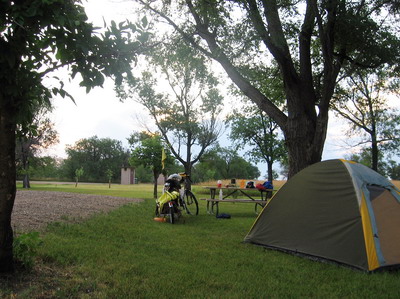 nice campground, but no water!
The storm stuff seems to have dissipated, guess I'll have to do a bit of a hike & get into the water. In the mean time, it's very nice to have the radio, I've got NPR news, and the weather radio band says north winds again tomorrow. Sounds OK to me.