Today's been a great day (as opposed to yesterday which was only half great). At breakfast back at the Hilltop Cafe I ran into westbound cyclist Jason, who's been making his way home to Portland, Oregon from Portland, Maine. He's been through a lot of places I've been at one time or another, we had a good conversation.

Jason's not been riding ACA routes, he's been riding route 200 west since Duluth. Continuing east on 200 was my alternative to heading north to Fort Peck Dam, he told me about this community park in Richey where I'm camped tonight (which indicates which choice I made at the crossroads east of Jordan). I talked up the great route I took through Idaho and Oregon, he was debating whether to head down the Columbia River gorge or travel as I did across the middle of Oregon.

Breakfast done we headed our respective ways, west and east on 200 out of Jordan. This is rolling range country. Expansive sheep and cattle ranches straddle the highway. The rocks are flat to gently dipping stratified shales, multihued, with some silt and sandstone capping isolated buttes and mesas. Makes for spectacular western scenery in the morning sunlight. The clouds of yesterday are gone.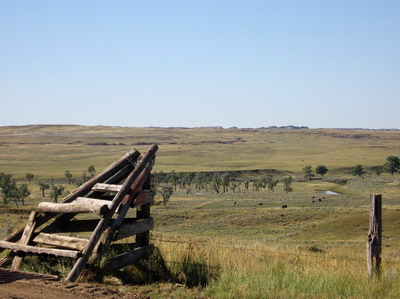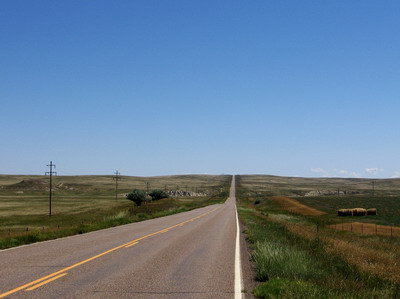 Just so you don't get the impression that all is completely right with the world, I offer some observations on topography and road construction strategy. The topography in this part of Montana reflects subtle structure in the underlying bedrock. It undulates with an amplitude of several hundred feet, and wavelength of a mile or two. In order to build a road across this terrain, and maintain reasonable grades, you can either snake the road around with curves that gradually move it up and down elevation, or you can run it in a straight line, making cuts through the ridges and using that material to fill the troughs in order to end up with an even grade.

What they've done here is run the road in a straight line, but let's forget about the cut and fill/even grade strategy. This means an endless series of: climb a few hundred feet elevation at sometimes ridiculously steep grades over a half mile or so, roll over the top and scream downhill for a half mile, lose momentum in the flat, then do it again. I've done about 100 miles of this today andf.....it's actually not bad riding. Variety is the spice of life, I'd just be twiddling my thumbs if it was all just flat. Rest on the downhills, get off the saddle, gear down & do the climbs. Sort of like Virginia except the scenery is different, with the straight road you can see what kind of sh** you're into for miles ahead, and most of the pickups are loud Dodges with Cummins diesels. (I'm a Ford guy, mid 90's vintage Ford Powerstrokes were well represented in Jordan. I'm sure I would have gotten a different reaction from some of these cowboys had I driven into town with my red ! F350 crew cab & camper as opposed to riding in soaking wet on my bicycle).

This country seems to be part of what's called the Big Sheep Mountains on the map. I've seen some big sheep, but I'm not sure about the mountains.

I ran into two other westbounders at some point, we visited over lunch. They had been more or less following the ACA L&C route from South Dakota (although they as I ended up on route 200). They said there are several eastbounders a day or two ahead of me, I may run into them when I rejoin the ACA route in North Dakota south of Williston.

East of Jordan the rangeland is a mix of sage scrub and grasslands that are being hayed. Between the town of Circle and Richey it's almost all grassland.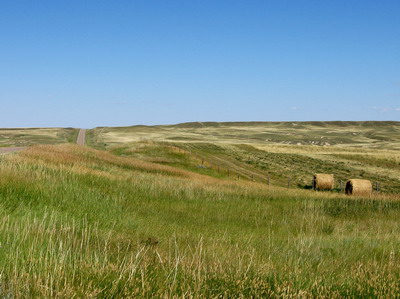 This has been a wet season, and people are round-baling the entire countryside. Over hill and dale. No need to fret about drying & curing, it never rains here (except yesterday), and there's no humidity.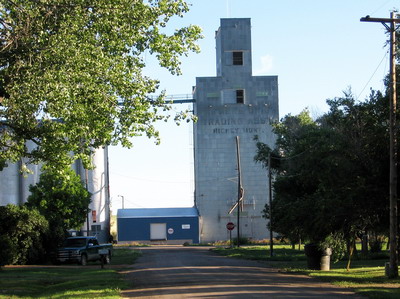 There's not a whole lot here in Richey, I did a cruise of Main Street, which is off the highway, dusty and barely paved, looking for this park.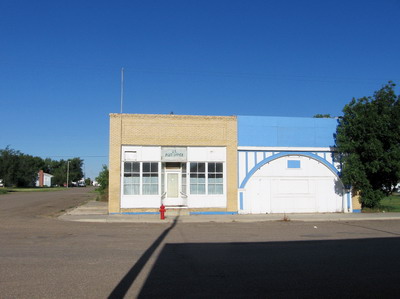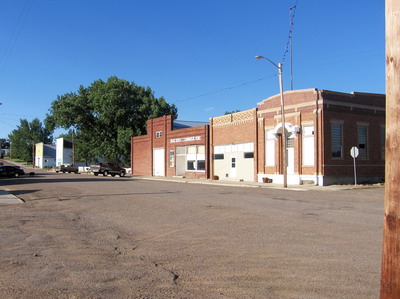 I'll cruise again & see whether there's breakfast to be had in the AM. There's a Harley mechanic in Northern Virginia named Richie who a one point was going to do this ride with me. If you're following all this Richie, I've found your town, except they got the spelling wrong.

Anyway, I've found my spot of shade for the evening, where would places like this be without cottonwood trees?