Charlottesville, Virginia is at about 38 degrees north by 78.5 degrees west, so all I need to do is cause the numbers on the GPS to converge on those numbers, right? Sort of like some kind of video game. I knew there had to be a simple, way to get my butt home.

Today's been great. Up at first light, loaded the bike, ate Belgian waffles with Linda, David & Tim, then hit the road. Or hit the cliff I needed to climb in order to get out of their place & onto the road. Linda, David & Tim really made for a great beginning for this trip!

I left around 8:30, made my way out to US101 (I don't think it's called the PCH up here, but same idea), and headed north into Florence.
US101 bridge over the Siuslaw River at Florence, Oregon

The weather was just right, I was psyched, I puttzed around for a couple of hours. Made my way out to the north jetty of the Siuslaw River, where it empties into the Pacific. It was a powerful scene, onshore winds blowing about 40 mph, heavy surf, bright sunshine, about 60 degrees F. Quite a few people were out enjoying the gorgeous non-rain morning, I chatted & snacked with John from Eugene and a few others. People are very outgoing. Phoned home from the end of the jetty, the westernmost point extent of this trip.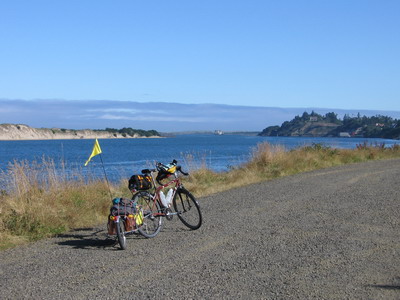 riding out the North Jetty Road toward the ocean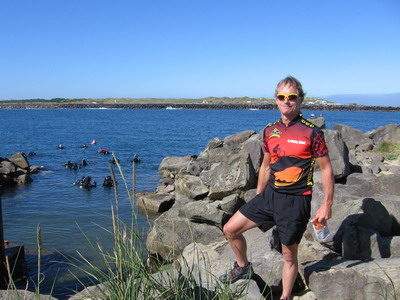 scuba divers in the Siuslaw River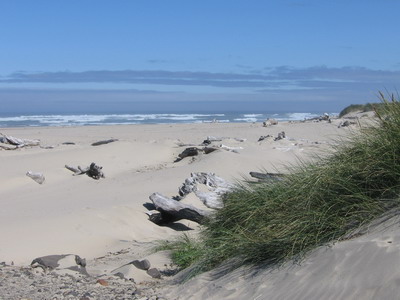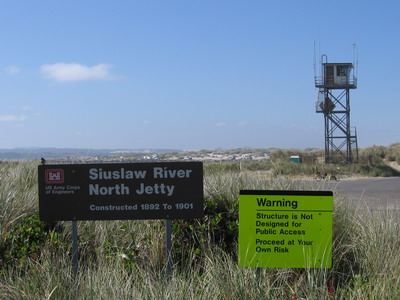 Then it was time to get on with it....I rode the tailwind back to Florence, bought an ice cream cone (that's right, Jackie, and it was cherry) & checked out the harbor,then, around lunch time headed out east toward Eugene on 126.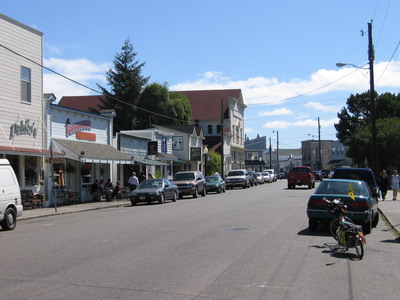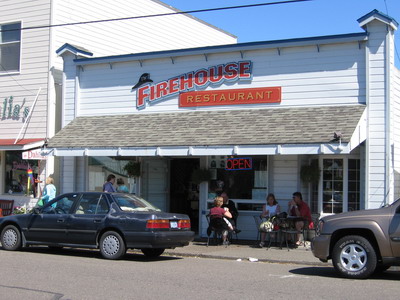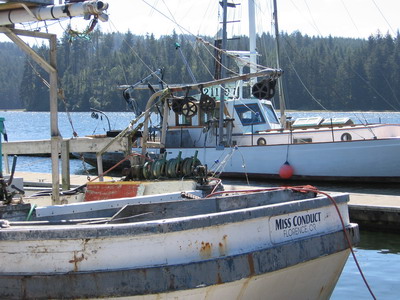 This road has a lot of traffic, RVs, boat trailers, not many big trucks on Saturday, but hardly wonderful. I started toying with an alternative route over the Coast Range to Eugene that I knew from when I used to live out here.

Then I had the first flat tire of the trip. Rear tire, which with the trailer and all is somewhat more of a pain in the ass to deal with than the other two. That is, if your 're between the guardrail and a lot of traffic. I pumped the thing up and it got me to a shade tree in Mapleton. Don't know if it was a maple shade tree.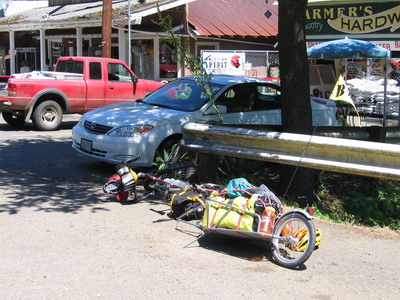 fixin' a flat in Mapleton

Seems like Chad & Lizzie (crazyguy riders from Powhatan, Virginia riding a similar route home to mine, who left Florence in back in June) also had flat tires barely 10 miles east of Florence. Maybe it's a setup by the Adventure Cycling Association (or maybe the Florence Chamber of Commerce) to weed out the faint of heart before they get too far into the bush.

While I was fooling with the tire, a rider on a well set up recumbent happened by, he affirmed that it's a much better ride to cut off 126 at Mapleton onto 36, and take that into Eugene, even though it's about 10 miles farther. He coached me to remember the Lawrence Road turnoff, and since my brain has limited extra space these days because of all the recent multi spectral sensory input, I forgot the guy's name. I enjoyed our chat, may the winds continue to blow south as you ride the PCH from Vancouver to San Diego next month. I had a great ride up 36 from Mapleton. If this ride was truly about finding the most efficient way to make the lat/long figures converge, I'd be riding along the shoulder of some interstate.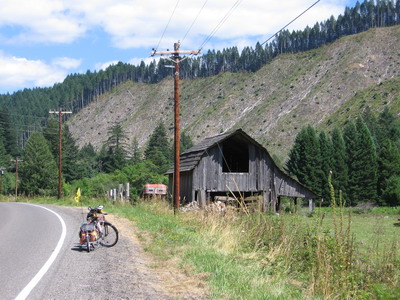 clearcut hillside along Oregon Rt 36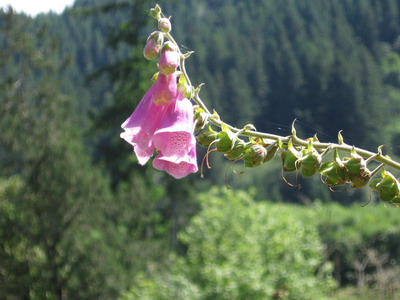 Got into Triangle Lake campground around 4pm. The campground is actually below Triangle Lake proper, on a wide spot in the upper reaches of a tributary (maybe the main stem) of the Siuslaw River. It's not a huge affair, for those who know, it's not much bigger than the Burnley Branch of Preddy Creek. But it sure felt good to splash around.

It was bit of a climb up here, pretty much all gradual up hill 26 miles from Mapleton, but the gps say it's only about 400 feet above the north jetty.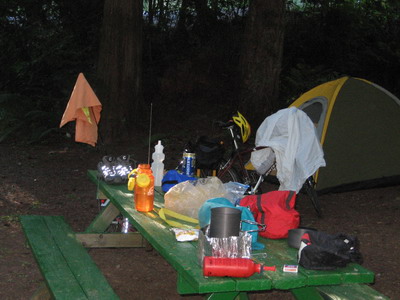 Everyone else in this (somewhat marginal) campground has their own tunes going, it is after all Saturday night. Not to be outdone, I have KLCC out of Eugene on my little radio. I listened to adolescent NPR on this station in the mid 1970's when I lived out here.

I bought this radio with part of a gift from my riding buds in the Charlottesville bike club. Bought a can of Fosters in Mapleton (after the flat tire was fixed) with another part of that gift, thanks folks, things are going great. Things are always great in Oregon when the sun is shining.

Tomorrow: on to Eugene & maybe beyond.

---
Photo of the day: