People all day have been saying there isn't anything at Sand Springs, Montana. Now that I'm here I'd say there's not exactly nothing here. True, there don't seem to be any people around, but there are a couple of things that make it a great stopping point if you happen to be in the middle of Garfield County, Montana riding your bicycle. Even though the store is not open, and it's not clear whether it will ever be open, there is a water faucet, and when you turn the handle, cold water comes out. I'm carrying enough provisions to camp in the boonies if needs be, but I'm going to accept the invitation from the ACA literature for cyclists to camp behind the store. I'm sharing my campsite with two late 50's vintage International flatbeds.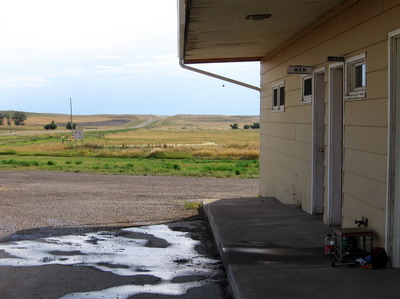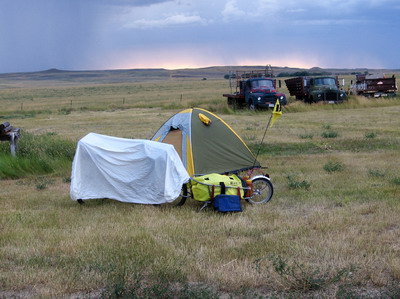 Today began with a return to the downtown cafe for breakfast. On the way out of the RV park I ran into a group of cyclists traveling westbound on the L&C trail with a van carrying all their gear. I didn't glean much from them (other than some comments about lack of services at Sand Springs--yes, there is water).

After breakfast I did some grocery shopping, and looked up the local bicycle shop to get tools tighten my steering head bearings. The proprietor of High Plains Bike & Ski, who runs that business out of his home on the side, took a few minutes off his day job to help me out. Very nice guy, he has a clean, well tooled shop if you ever need bike repairs in Lewistown.

On the road later than usual, I did the 9 mile ascent over the Judith mountains east from Lewistown.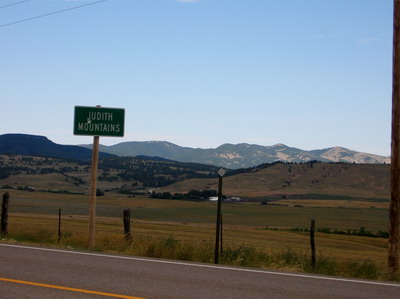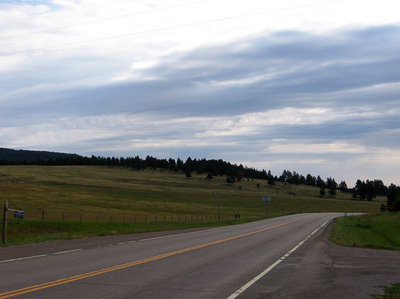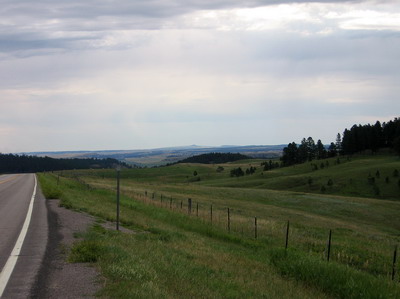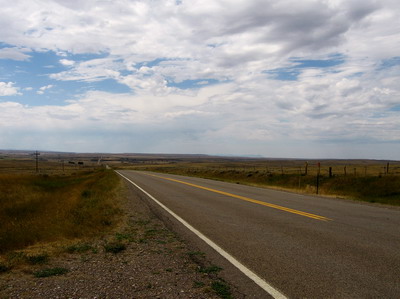 The wind was in my favor, and I smoked the 40 or so downhill miles to Grass Range (where somebody's stack of hay bales was on fire, drawing fire trucks and pickup trucks from all around), and on to Winnett where I stopped for lunch. Until mid afternoon it was a blessedly overcast day, and cool. At one point it actually rained enough to get the road wet.

The Judith mountains have trees and hay land, the country to the east becomes progressively drier with decreasing elevation. Irrigated land along the stream bottoms is green, in hay; everything else is brown and in sage.

I saw four westbound riders near Grass Range, three with panniers and one lady pulling a BOB. They were struggling with the wind and the uphill grade, and here I come sailing by at 23 mph, we yelled greetings as we passed.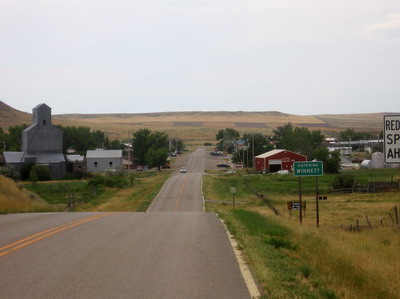 The waitress at Winnett was interested in my travels. She did nothing to raise my expectations as to what I would find in Sand Springs. But she did tell me my party was over as far as the down hill stuff. She was right.

The afternoon ride was tough, with numerous steep grades up and down. The wind was also all over the place and gusty. The sun was out, but I could see a thunderstorm right behind me in my mirror, causing unsettled conditions. The storm didn't catch up to me until after I'd been in Sand Springs for a couple of hours.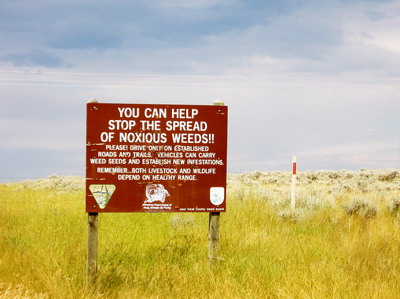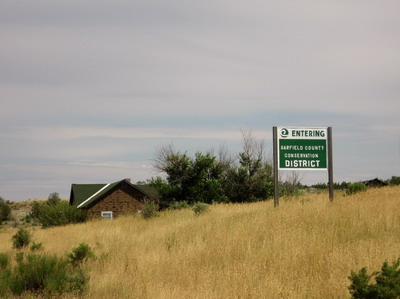 This is cattle ranching country. The cows stand in the sage & look like cows, but at one point a group of (riderless) horses came galloping across the sage to the fence along the road, then trotted along side of me for a couple of miles.

I was pretty beat by the time I got here. I'm going to look at the maps, maybe do an alternative route to Williston that takes me through a few towns, rather than head north to Fort Peck Dam after Jordan. That route involves a 90 mile stretch with no water. Carrying enough water to ride and camp without resupply means a lot of extra weight. I'll make a decision over breakfast at Jordan.