Today I awoke at first light after a good night's sleep next to river sounds. Made oatmeal & tea, packed up and got on the road early. I was about 40 miles below the Lochsa Lodge, and I knew there was a good breakfast to be had there, having partaken of such several years ago while traveling these parts on my R80G/S BMW.

It was chilly, I started the ride in my long pants (which didn't tangle in the cranks, thank you Beth for fixing them) & long sleeves. I warmed the legs up on the gradual uphill grade, there were about 3000 feet of elevation to climb over the next 50 miles or so to Lolo Pass. 50 more miles of riding through picture postcard land. With early morning mist on the river. This is Idaho's answer to the Blue Ridge Parkway. Sigh. Someone from the Charlottesville Bike Club needs to scope out these roads, and I happen to be here, so I guess I'll just have to do it.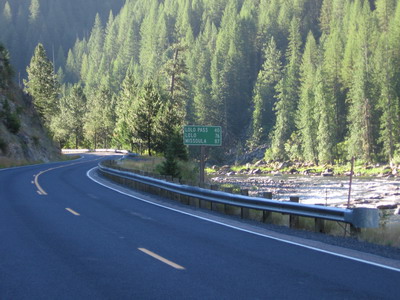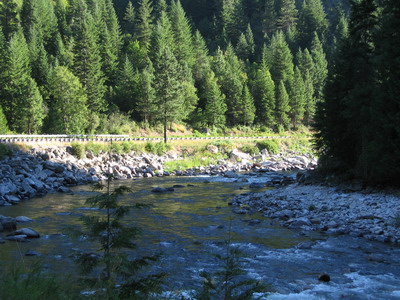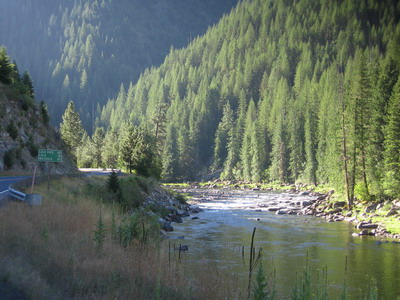 A tractor trailer loaded with lumber steams past me at something more than the posted 50mph limit. A mile or so up the road I came around a curve, and the truck has flipped on its side, spilling lumber and truck parts all over the road and into the Lochsa River.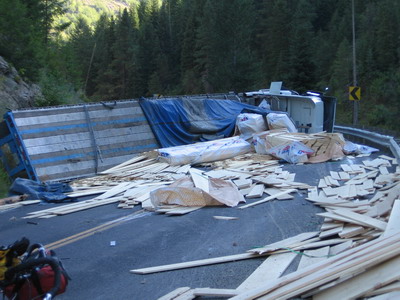 The driver was not injured, but the road was blocked to all but cyclists and pedestrians, and it was at least 50 miles in either direction to equipment of a scale capible of opening the road. I spared the driver my thoughts on his driving style, he had enough trouble on his hands. Shortly another driver happened along, who turned around & headed back up the road to summon help (this is all way out of cell phone range).

I headed up the road, and rode all the way to Lochsa Lodge with the east bound lane to myself, as none of the cars & trucks could get through. I can see fish hitting on some bug or other in the still pools of the river. If I had my fly rod I would not be on the bicycle. Signs posted say the river is closed to salmon fishing but these are probably trout.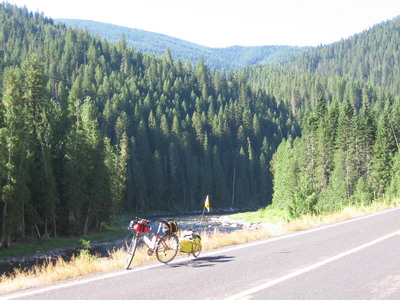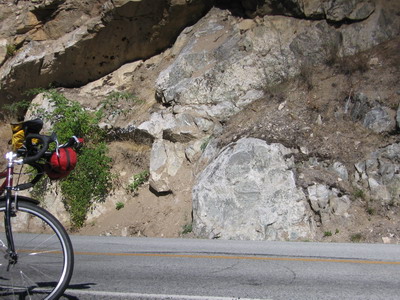 The road cuts are pink granite of the Idaho Batholith, and migmatitic looking stuff where the granite intrudes older metamorphic rocks. A relief from all the dark basaltic rocks of the past few days.

The Washington couple hailed me at one point from across the river, where they had apparently camped. I waved & rode on. I ate a great breakfast at the Lodge amid woodsy Idaho ambiance. The Bad Bikers from Eugene showed up as I was getting ready to ride out of the parking lot, they are trying to get to Helena within the next couple of days, were going to Missoula today as was I, so maybe we'll run into each other again.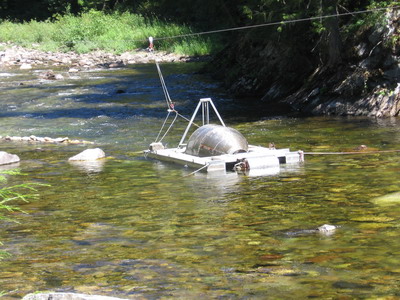 I think this is a placer mining device.....
There were still 2000 feet or so to climb to Lolo Pass from lodge. Once again, the westerly winds kicked up at mid day, and blew me up the pass (actually, I did need to pedal some), and then blew me another 35 miles down to the junction with US93 in Lolo, in the Bitterroot Valley. Most of it spinning along in the big ring / 11, sitting up & trying to act like a sail.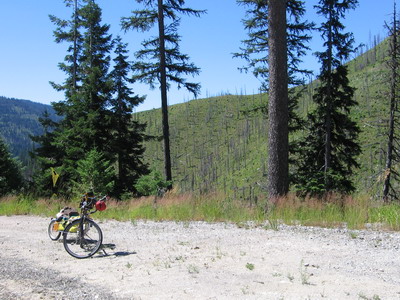 recovering burn from recent fire, near Lolo Pass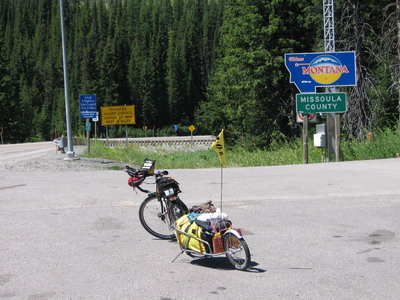 Have I mentioned that I have had westerly afternoon winds in my favor every day of this trip so far? The only bad head wind I've had to deal with so far was on the descent into Riggins on my birthday. When I looked at the map I realized we were actually running northwest on that stretch--had we been riding east it would have been clear sailing. There were crazy winds in the canyons west of Richland, Oregon, but I think that had to do with the corkscrew effect of the twisty canyon walls. If they want to give me westerly winds every afternoon, I'll take 'em! If I'm repeating myself with this it's because I've ridden 100 miles today and I've gone into physical & sensory overload.

The 8 or so mile ride up US93 into Missoula (home of the Adventure Cycling Association) is memorable only as the worst riding of the trip so far. I felt kind of like I was on the shoulder of the New Jersey Turnpike, complete with guardrail too close, heavy traffic moving at 80mph, broken beer bottles all over the place....not a great welcome to Missoula. Things had mellowed a bit by the time I passed the fairgrounds (where I once rebuilt the engine of my R80G/S in a cow barn before a crowd of onlookers). And eventually I arrived in town proper, with shading street trees, and a motel with an air conditioner. I'm glad to be here, tomorrow's a rest day.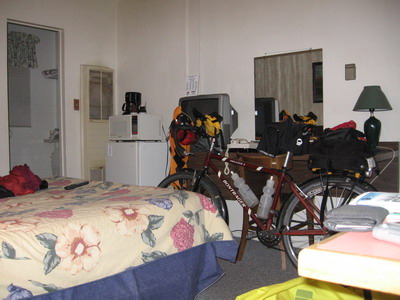 ---
Photo of the day: