Where am I now: 45.33758N by 115.31567W at 2081 ft.
Today began early. Beware of really green grass in a place where everything else is brown....At about 3AM, while I was deep in REM sleep, a blast of cold water panned across the front of my tent. Which, of course was open except for the mosquito netting. It was a direct hit. While I was in the midst of reacting to the first onslaught, the second round hit. While broadcasting a string of invectives to the moon and anyone else who might have been listening, I vaulted out of the tent, attempted to gauge the trajectory of the rotating irrigation nozzel.....grabbed the tent by its horns, and dragged it & everything in it to what seemed safe ground. Climbed back in the wet bag, was just about asleep, and it happened again, only this time the blast hit the side of the tent, so I didn't get wet. It seems the irrigation nozzles are timed to go of in sequence in the dark of night, in the Lions' Park, where the camping is free and the grass is green. By this time it was getting! light, so to hell with trying to get a decent night's sleep, I began packing stuff up.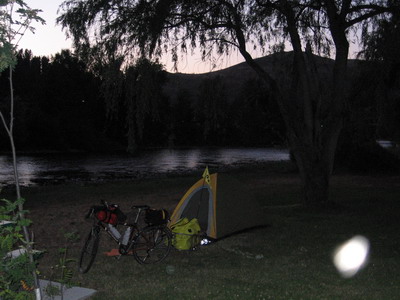 first light at the Lions Club Park in Kooskia

A west bound rider who's almost home to Oregon showed up last night after I posted the journal, we ate dinner together at a restaurant in Kooskia. Turns out he started his trip the same weekend I did my shakedown cruise (Memorial Day), and stayed at Jamestown Beach campground the same night I did, with all the dogs and partying. Too bad we didn't run into each other then.

We went to breakfast at the same restaurant, and dined with the couple from Washington who had gotten a motel room last night. Then the Bad Bikers from Eugene showed up (whom I had encountered in Mitchell). There was quite the cyclist scene on Main Street in Kooskia, Idaho this morning.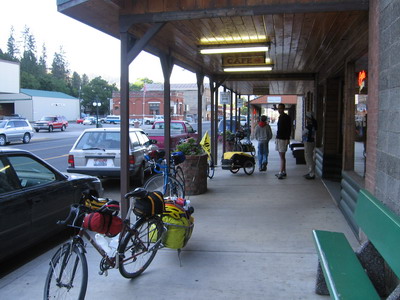 We're all headed east for the moment, but everyone seemed to have different notions of how far they wanted to go today. I rode until after lunch, found a campsite, and lay around in the river, sort of a rest day. There's no evidence of organized irrigation where I'm presently camped.

The fifty mile ride up the Middle Fork of the Clearwater, and then the Lochsa, is sort of like riding through a continuous post card, or being part of a documentary on the last great unadulterated western river.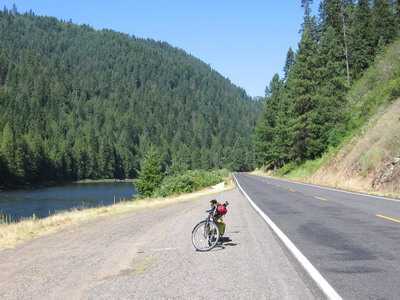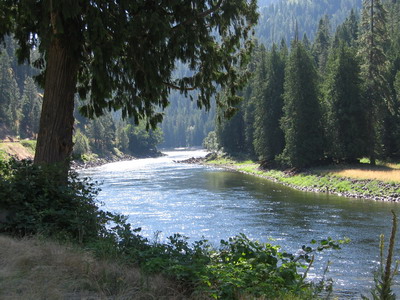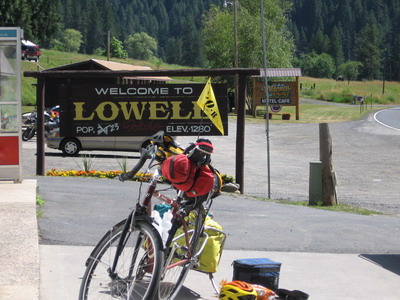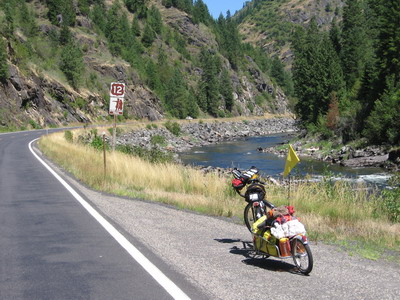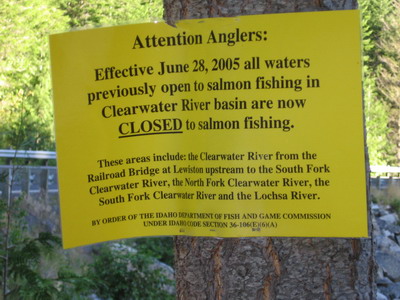 I don't understand why the Bureau of Reclamation and / or the US Army Corps of Engineers (/beavers?) let this one slip through their fingers. Here you have a great canyon, good solid granite wall rock courtesy the Idaho Batholith, lots of water. Why don't we have a series of dams and lakes in this valley????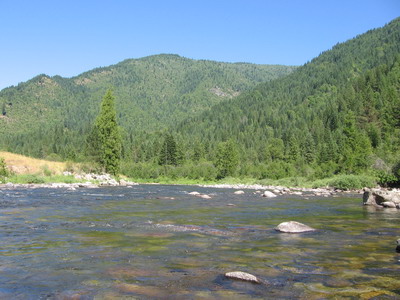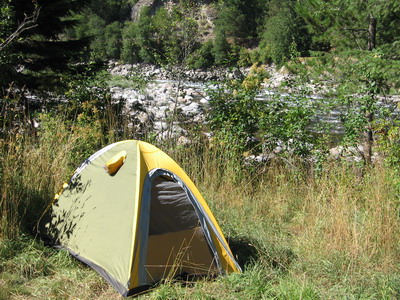 It's been good spending an afternoon enjoying a spectacular place. I did some adjustments on the bike (which is holding up very well), did a little reading, a little walking around in the woods, went back in the river (which is not too cold), now I'm going to prepare the evening repast. No Food Lion within 1000 miles of this place, but I visited a good grocery store in Kooskia this morning, so all is well.

Tomorrow I'll do the remaining 50 mile/3000 feet of climbing to Lolo Pass, then cruise down hill (mostly) into Missoula.

---
Photo of the day: