Well, now I know why I haven't seen any dogs on this trip, they're all down here! Jamestown Beach, Virginia has been taken over by dogworld (includes human players), they seem to be having their international convention this weekend. The woods are alive with yips and yaps. I got here around 3PM.
Today's ride began around 7AM with suburban Richmond rushhour traffic. I've found that between BOB and my eratic red flashing light, drivers do seem to give me plenty of room. If someone's looming a bit close in my mirror, all I have to do is weave around in the road some (like I'm crazy or drunk), then they REALLY give me a lot of space when they pass.
So how do I manage to cover 84 miles between Ashland and Jamstown when it should only be 70 something? Well you try and follow the ACA map in a suburban jungle during rush hour with the sun in your eyes (while you're executing defensive weaves to boot}. Next thing I knew I was in the drops doing 20mph, AND going back under I295 the wrong way, sun on my back, headed into Richmond. Here I'm a guy who used to make maps for a living, I've navigated all over North America,and I can't even follow a simple map across Virginia on a bicycle. Anyway, I found my way south to Rt 5 by dead reckoning, and found my way to dogworld.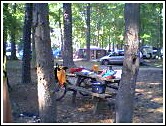 The Chickahominy River crossing is cool, it's the first big water eastbound riders encounter.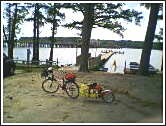 Today's food of choice: glazed walnuts, and there've also been a few PBB sandwiches. I'm burning through hundreds of calories every hour on the bike, I stop every hour or so and eat.
Tomorrow's events: Colonial Parkway to Yorktown, where I think I'm supposed to throw BOB and the bike into the York River & take a picture, in order to document the completion of my transmerica crossing... Then it's north from Yorktown, across the Coleman Bridge (that'll be interesting), and across Gloucester County to my in-law's place on Ferry Creek. Where family, culinary delights, and cold beer abound.